15-Year Anniversary Celebration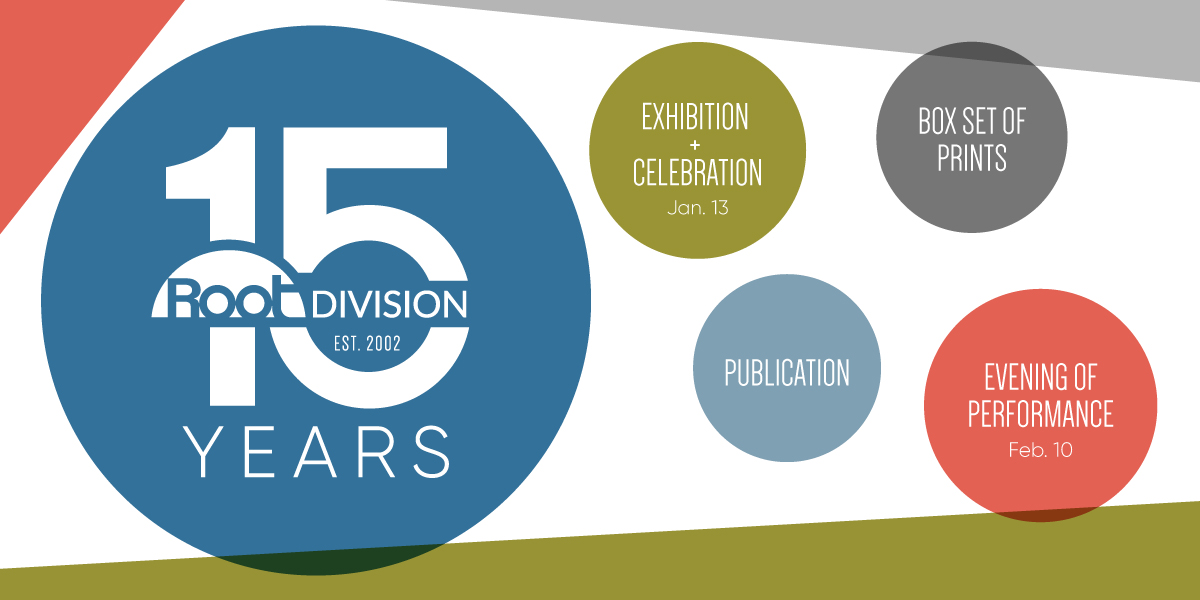 We're celebrating 15 Years of
Community Minded Artists and Arts Minded Community
with these Special Events and Projects!
 
Join us for these fantastic events and special projects to mark our 15th Anniversary of connecting creativity and community in San Francisco and beyond! There's so much to celebrate! In the past 15 years, Root Division has surfaced as one of the primary venues in San Francisco that supports emerging visual artists. Existing as a dynamic hybrid of the alternative space, commercial gallery, art center, and studio facility, Root Division is contributing to making life as an artist in the Bay Area a sustainable practice while cultivating artists who give back to the community. As we launch into our next 15 years of supporting artists and arts education in the Bay Area, we invite you to take a look at our history and become part of our future.
 
・・・・・

15-Year Anniversary Exhibition + Celebration

Exhibition Dates: Jan 10, 2018 to Feb 10, 2018 
2nd Sat Reception: Saturday, January 13, 2018 - 7:00pm to 10:00pm

The 15-Year Anniversary Exhibition features 15 alumni from Root Division's Studios Program, producing high caliber work in a variety of media. The exhibition is complemented by a full color catalogue including photos and information about all 183 of Root Division's Studio Artist Alums.

15-Year Anniversary Publication

In celebration of our anniversary, we reached out to our alumni and produced a full-color catalogue including photos and information about each of our 183 Root Division's Studio Artist Alums. With over 85% of polled alumni still maintaining a studio practice, we are thrilled to share their successes and artistic trajectories in this comprehensive catalogue.


15-Year Anniversary Box Set of Prints

Designed in collaboration with Electric Works, this limited edition of 50 box sets features 15 prints by Root Division Alumni. Featuring 11x14 in. prints in photography, silkscreen, letterpress and digital prints inside a specialty archival box, this is a Root Division collector's dream!

 

15-Year Anniversary Evening of Performance

2nd Sat Reception: Saturday, February 10, 2018 - 7:00 to 10:00 PM

Our anniversary celebration continues! This one night event will feature performances and interactive projects by 15 Root Division Studio Artist Alumni. On view in the gallery will be our 15-Year Anniversary Exhibition featuring 15 Alumni Artists. Don't miss this lively evening of performances and interactive projects!