Art Rentals
Offsite Exhibitions & Artwork Rental Program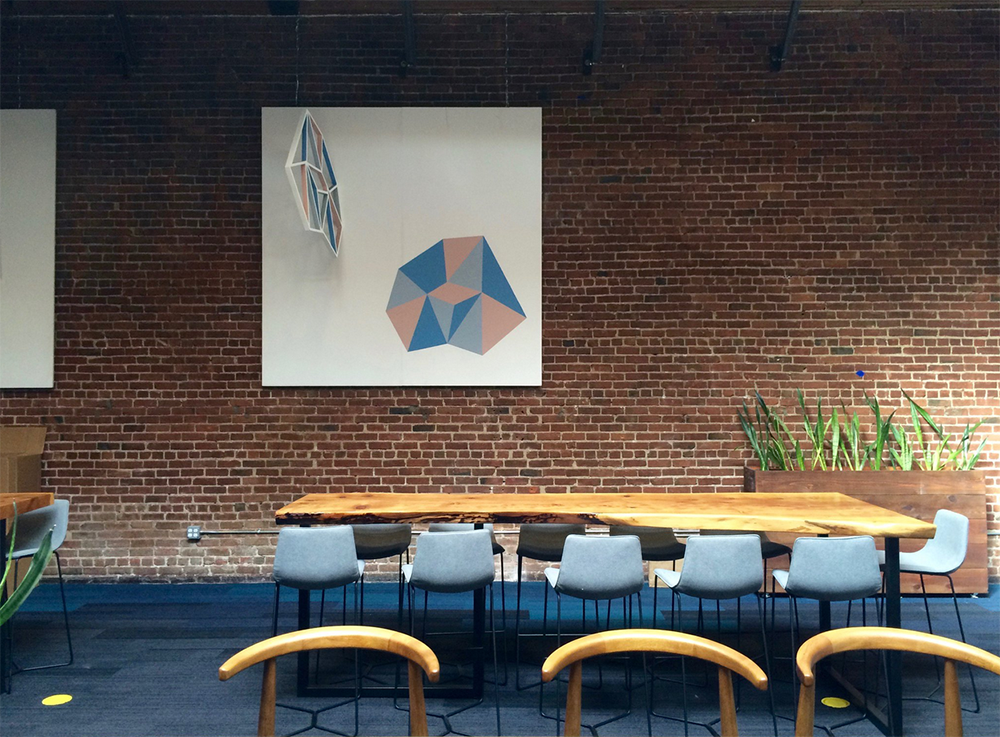 Image: Nicholas Hullibarger's artwork in Covo, 2016.
WHY ROOT DIVISION
Root Division is a visual arts non-profit located in the heart of San Francisco's Mid-Market / SOMA neighborhood. Our programs provide professional opportunities for emerging Bay Area artists, and to cultivate a public interest in the arts through a variety of public offerings. Our Offsite Exhibitions & Artwork Rental Program gives local businesses and members of the community access to innovative and engaging artworks, on a rotating schedule. This easy and affordable program offers support to local, emerging artists, while creating a dynamic and evolving workplace or home collection. Root Division supports artists and arts enthusiasts, bridging the divide between the creation and presentation of visual art.
Root Division's Studios Program offers discounted studios to artists who each volunteer 12 hours of community service per month. Artists' service can include teaching free art classes in our Youth Education Program, designing and instructing courses in the Adult Education Program, and/or assisting in the Exhibitions & Events Program.
ABOUT OUR ARTISTS
Root Division Studio Artists are a cut above other professional artists and/or artists-in-schools teachers, because they have been vetted by peers and professionals on the basis of their portfolio, experience, and character. We currently have 31 Studio Artists, and over 150 Alumni whose available works will be hand selected for your space. Media span visual arts including painting, drawing, photography, prints, collage, mixed–media, sculpture, installation and digital media.
View some of the available work here! »
SIZE
We are happy to offer offsite exhibitions and artwork rentals for homes, offices, restaurants, cafes and other spaces.  We work with venues of all sizes, from individual walls to entire office buildings. We are experts at enlivening a space with high quality works by local emerging artists.
PRICING
$30 per horizontal foot of artwork (per 3 month interval)
$150 Preparator's fee for installation of artwork 
$150 Preparator's fee for de-installation of artwork 
Truck 

rental

 fees may apply 
SALES
Your support of emerging artists doesn't have to stop at art appreciation. All rental works are available for sale. Root Division will provide a price list for all works, and handle all sales.
CONTACT
For more information or to see some of the available artworks by our artists contact Renée Rhodes, our Art Program Manager at renee@rootdivision.org.