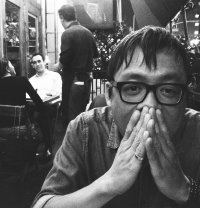 Artist; Curator; Educator
Kevin B. Chen is a visual artist, curator, and educator who currently serves as faculty at San Francisco State University's School of Art, Resident Curator at SFSU's Fine Arts Gallery, Visiting Artist at Mills College, and a member of Recology's Artist in Residence Program Advisory Board. He recently served as co-chair for the City of Oakland's Public Art Advisory Committee, managed the de Young Museum's Artist Residency Program and Public Programs, and taught at Stanford University and California College of the Arts. He has curated projects for Headlands Center for the Arts, Minnesota Street Project, San Francisco Arts Commission Galleries, University of Nevada Reno, San Jose Institute of Contemporary Art, San Francisco Art Institute, Yerba Buena Center for the Arts, SOMArts Cultural Center, and Chinese Culture Center of San Francisco & Kearny Street Workshop. His curatorial work has been reviewed in publications nationally, including Art in America, afterimage: the journal of media arts and cultural criticism, Sculpture Magazine, Art Papers, New Art Examiner, Art Nexus, Bidoun Magazine, Bitch Magazine, and the Huffington Post. He was Program Director of Visual Arts at Intersection for the Arts for over 15 years, where he curated over 70 exhibitions and hundreds of public programs.
His work in drawing, collage, and sculpture has been exhibited locally at San Jose Institute of Contemporary Art, Southern Exposure, Asian Art Museum, Palo Alto Art Center, Kala Art Institute, Kearny Street Workshop, and nationally at Angel's Gate Cultural Center (San Pedro, CA), Harn Museum of Art (Gainesville, FL), Bob Rauschenberg Gallery (Ft. Myers, FL), Bruno David Gallery (St. Louis, MO), and The Kitchen (New York, NY). He received his BA from Columbia University in Psychology and East Asian Languages & Cultures and is represented by Jack Fischer Gallery in San Francisco, CA.