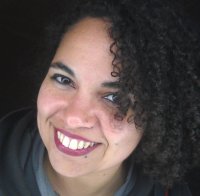 Artist Consultant; Founder & Director of A Simple Collective; Co-Director, Emerging Arts Professionals
Rhiannon Evans MacFadyen is a curator, project-based artist, and consultant for artists and cultural entrepreneurs. A San Francisco native, having over 15 years of in-depth experience in the arts, including 10+ years in the commercial gallery world and a number of years with Bay Area folkloric performance companies, Rhiannon has recently focused on projects that push boundaries of scale, scope, medium, venue, and content. In 2013 she founded A Simple Collective: an organization dedicated to fostering creative independence for professionals, and professional independence for creatives, and ASC Projects: an experimental project space in the Mission.
Deeply involved with several community-building, cultural, and arts marketing organizations, she spearheaded the creation and curation of Yerba Buena Night: the free outdoor arts festival in downtown San Francisco, now in its fourth year and is on the Advisory Board for WEAD (Women's Environmental Artist Directory) and Curatorial Committee for Root Division. She has curated exhibitions at Visual Aid Gallery, the New Media Lounge at Yerba Buena Night, ASC Projects, and SCOPE New York, and her shows and words have been included is The New Asterisk Magazine, SFArts.org, Art Practical, and KQED, among other publications.