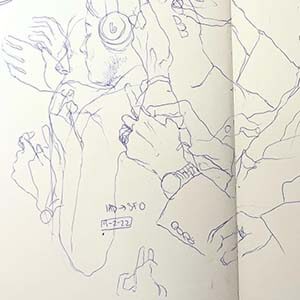 Instructor: Nibha Akireddy
Sessions: 2
Dates: Thursdays March 9, 16
Time: 6:30 pm - 8:30 pm
Tuition: $110
Register
This two-session in-person class will help students learn and gain experience with drawing moving figures and objects from life. Public transportation, coffee shops, and lectures are among countless everyday environments that can be captured with a unique kind of sketching that captures not just a still image but the movement and energy of a setting. Students will develop a familiarity with drawing materials and with the practice of capturing figures in motion. A materials list will be provided upon registration; supplies must be purchased independently. Please note: this class will take place in person at Root Division, located at 1131 Mission Street in SF.
Special Rates!
Register with a friend and get 10% off the class fee.
Register with 5 friends and one person can take the class FREE OF CHARGE!
Registrations must be made at the same time by the same person for the discount to apply. For inquiries and to take advantage of special rates, email:classes@rootdivision.org
And if you don't see what you want here, we would love to hear your suggestions for future classes.
Please email Tamara Berdichevsky at classes@rootdivision.org with your ideas!