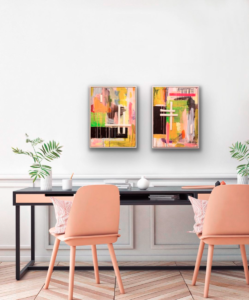 Venue: 1131 Mission Street
Instructor: Makiko Harris, Artist & Small Business Owner + Rebecca Kaufman, MFA
Class Dates: Thursdays, 6:30-8:30 pm | July 29, August 5
Sessions: 2
Price: $60
Register
The Artist's Way: Starting the Journey to Recovering Your Creative Self (In-Person Class)
The Artist's Way is a book by Julia Cameron that has "inspired millions to overcome the limiting beliefs and fears that can inhibit the creative process."
Kick off your summer by joining us in a 2-part group facilitated introduction through the readings and exercises of the first chapter of The Artist's Way. We'll cover the basic tools of artist dates and morning pages as well as identify our core negative beliefs and generate supportive creative affirmations. In the first session, we will review the text together, do a few exercises to begin the process of artistic recovery, and identify the activities and tasks that we'll continue to do throughout the week and before the next session. In the second session, we will have a safe, open dialogue about how the week of exercises went for each participant including the instructors.
From this 2-part course we hope you'll gain energy, inspiration, and momentum to continue to renew your creative growth.
We will be providing safe space to share, grow, learn, and support each other. Come join us to reconnect with your inner artist child and unblock your creativity. There are no prerequisites for this course.
Please note that this class will be held in-person at Root Division, located at 1131 Mission Street in San Francisco. COVID safey precautions will apply. 
Special Rates!
Register with a friend and get 10% off the class fee.
Register with 5 friends and one person can take the class FREE OF CHARGE!
Registrations must be made at the same time by the same person for the discount to apply. For inquiries and to take advantage of special rates, email: michael@rootdivision.org
And if you don't see what you want here, we would love to hear your suggestions for future classes.
Please email Michael Gabrielle at michael@rootdivision.org with your ideas!