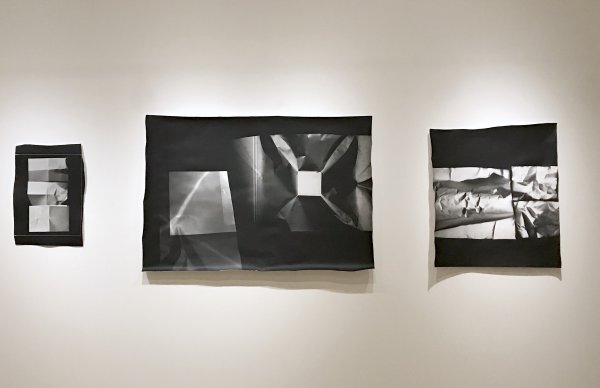 Reception:
Thursday, March 15, 2018 -

6:00pm

to

8:00pm
Exhibition Dates:
Feb 12, 2018

to

Jun 15, 2018
Using light as a material to make photographic gestures, Arielle Rebek explores the passing of time and memory of experience in her installation, Contact. Light serves as both material and metaphor in her cyclical process of experimentation, observation, and response. Rebek chooses to bypass the camera to work directly with light sensitive material and physically contact the moment and subject of capture. What remains is a unique residue of both action and meditation. Reflections on time and memory guide her decisions, as she manipulates the phenomenon, materiality, and illusion of photography. This off-site installation will be on view at Soma Grand 1160 Mission Street, through June 2018.
About the artist:
Originally from the Chicago suburbs, Rebek is currently based in Oakland, CA. She earned a BA from Carleton College in Northfield, MN and an MFA in Art Studio from the University of California, Davis. She is a current Studio Artist at Root Division.
Please direct all sales inquiries to: Samantha Reynolds, Interim Art Programs Director, Root Division at samantha@rootdivision.org or 415.863.7668