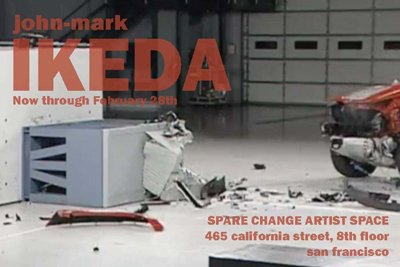 Downtown: Work by John Mark Ikeda
Spare Change Artist Space
Reception:
Thursday, January 24, 2013 -

5:30pm

to

9:00pm
Exhibition Dates:
Dec 1, 2012

to

Feb 1, 2013
Gallery Hours:
Monday through Friday from 9am to 5pm
Root Division is thrilled to partner with Rhodes & Fletcher LLC to curate Spare Change with the work of our Studio Artists and Affiliates. Current Studio Artist, John-Mark Ikeda uses symbols of ordinary business accoutrements in his video, print, and augmented reality works. Illustrating "the moment when myths deteriorate," these familiar icons are disempowered through their use as metaphor for a growing disenchantment with the promises of free enterprise. Disassembled, deconstructed, mis-used, manipulated and analyzed, Ikeda demonstrates a mastery over traditional business vices and the ideas they represent.
SPARE CHANGE ARTIST SPACE
465 California St, Suite 838
San Francisco, CA 94104
sparechangeartistspace.com