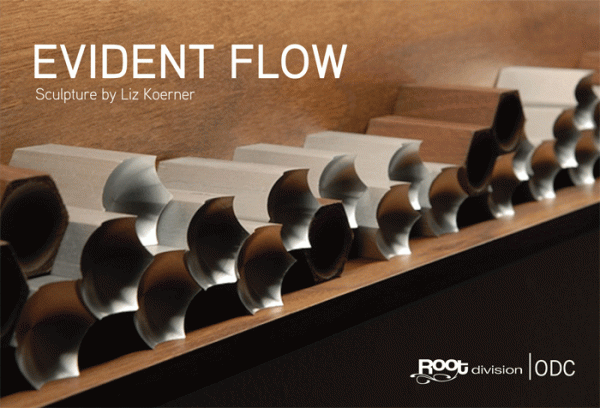 Evident Flow: Work by Liz Koerner
Reception:
Friday, December 2, 2011 -

6:00pm

to

8:00pm
Exhibition Dates:
Dec 1, 2011

to

Dec 21, 2011
Root Division presents Evident Flow: Sculpture by Liz Koerner, at ODC. We are thrilled to partner with our neighbors at ODC by curating the theater lobby with the work of our studio artists. This quarterly exhibition series curated by Root Division's Exhibitions & Events Coordinator, Amy Cancelmo, reflects Root Division's mission to improve appreciation and access to the visual arts by connecting personal inspiration and community participation.
Liz Koerner is a Studio Artist at Root Division, and currently serves as the organization's Facilities Manager. She teaches a carpentry class to youth through Root Division's Youth Education Program with students from our neighbors at 7 Tepees. Her sculptures are inspired by the larger forces of nature, resulting in objects that suggest a personal connection to material movement and transformation. In Koerner's work geologic processes such as sedimentation, tectonic shifting and thermal flow are explored as physical principles that resonate with a subconscious landscape.
ODC THEATER
3153 17th Street
San Francisco, CA 94110
www.odctheater.org