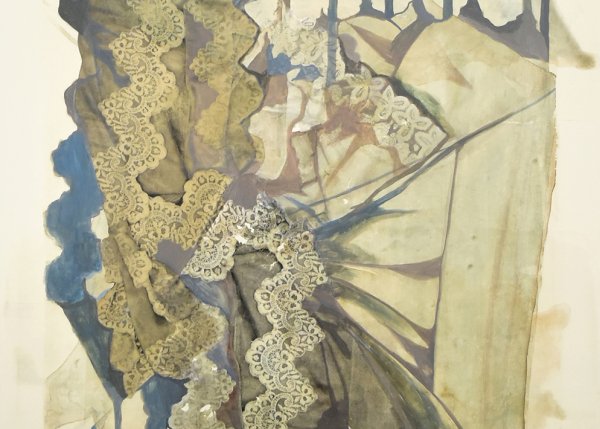 SOMA Grand, 1160 Mission St, San Francisco, California 94103
Reception:
Thursday, September 15, 2016 -

6:00pm

to

8:00pm
Exhibition Dates:
Aug 19, 2016

to

Oct 10, 2016
Rea Lynn de Guzman explores psychological and socio-political themes surrounding liminal identity, cultural assimilation, and the Filipino/a diaspora, tempered by her experience as a Filipina immigrant living in the United States.
The Restaso Series references the iconography of "Maria Clara" (a mestiza character from Jose Rizal's novel Noli me Tangere and metonym for a traditional dress woven from piña fiber and organza). Influenced by Spanish colonization, "Maria Clara" embodies Philippine ideals of female beauty equated with light skin, accompanied by stereotypes of chastity and demureness. Her work presents and challenges the displacement and inferiorization of native ideals by the colonizer, signified by clothing made from a foreign fruit. Through the process of repetitive layering and a palette evoking skin tones, de Guzman utilizes the tactility of specific materials such as image transfers on synthetic organza to extract and repudiate these imposed ideals and stereotypes—material remnants intertwined with cultural legacies.
Rea Lynn de Guzman completed her MFA at the School of the Art Institute of Chicago in 2014. Her work has been exhibited in the Bay Area, Chicago, and even internationally at the Nandalal Gallery in Kolkata, India.