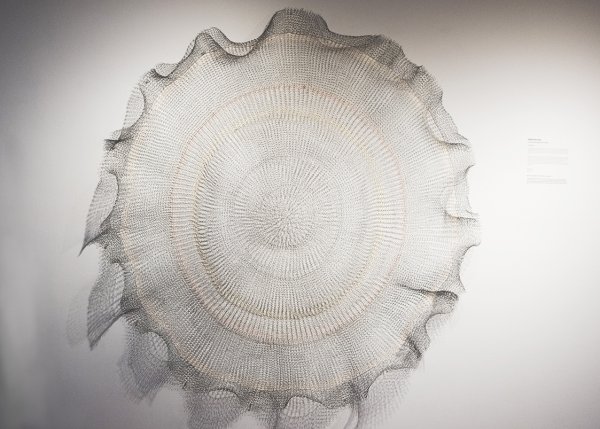 Indira Urrutia: Introspection
SoMA Grand, 1160 Mission St, San Francisco, California 94103
Reception:
Wednesday, September 20, 2017 -

6:00pm

to

8:00pm
Exhibition Dates:
Aug 3, 2017

to

Oct 2, 2017
Indira Urrutia is a Chilean born immigrant who moved to New Haven, Connecticut in 1986 with her family. Urrutia received her B.S. in Studio Art with a focus on photography from Southern Connecticut State University in 1994. Since then, she has followed her passion for photography and explored other formats such as mixed media, installation art, experimental video, and most recently, metal weaving.
Urrutia has spent the past year exploring the technique of metal weaving. Knitting and weaving have been part of Urrutia's life since childhood. The techniques of weaving have become embedded in Urrutia's DNA over the hundreds of years that the practice has been part of her family history. As such, Indira uses the process of hand knitting to reconnect with the female family members who have inspired her throughout her life. Just as she has done with photography in the past, Urrutia uses weaving to recollect the memories, tales, and history of her life.
Introspection belongs to a series of six pieces, each of which begins from the center. This wall piece was created out of thinking about the human nature of repeating things, regardless of the outcome. This body of work also reflects the influence of Ruth Asawa's work.