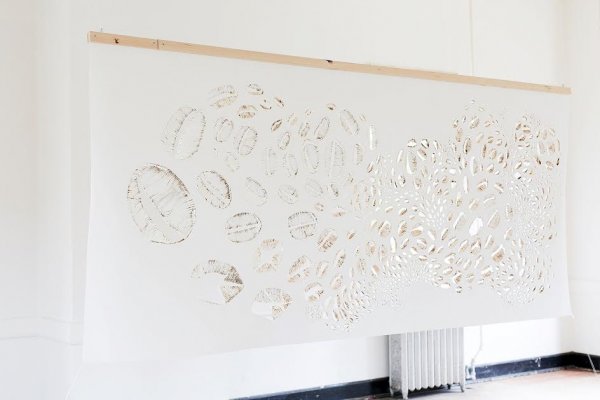 S0MA Grand, 1160 Mission St, San Francisco, California 94103
Reception:
Thursday, July 13, 2017 -

6:00pm

to

8:00pm
Exhibition Dates:
May 12, 2017

to

Aug 2, 2017
Joyce Nojima is a second-generation Japanese American born and raised in Santa Rosa, California. Nojima's work exposes the beauty in the destruction of her materials. By puncturing, disfiguring, welding, and drawing with a heated iron rod, Nojima's marks reveal volume through manipulation. Tentative gestures are interrupted by thick yet translucent scars. These marks echo the dichotomy between rhythm and atonality, thoughtfulness and impetuousness.
Nojima received her B.A. in Art Practice from University of California, Berkeley in 2003 and earned her MFA at University of California, Davis in 2014. She was recently in the Affiliate Artist and Graduate Fellowship Program at the Headlands Center for the Arts.
A current Root Division Studio Artist, Joyce volunteers teaching in the Youth and Adult Education Programs. A highly skilled draftsperson, and current mentor in Root Division's Teen Program, Joyce works one on one to help a budding young artist develop her drawing practice. Don't miss her Adult Education drawing classes, where you too can brush up on your skills with this talented teacher.