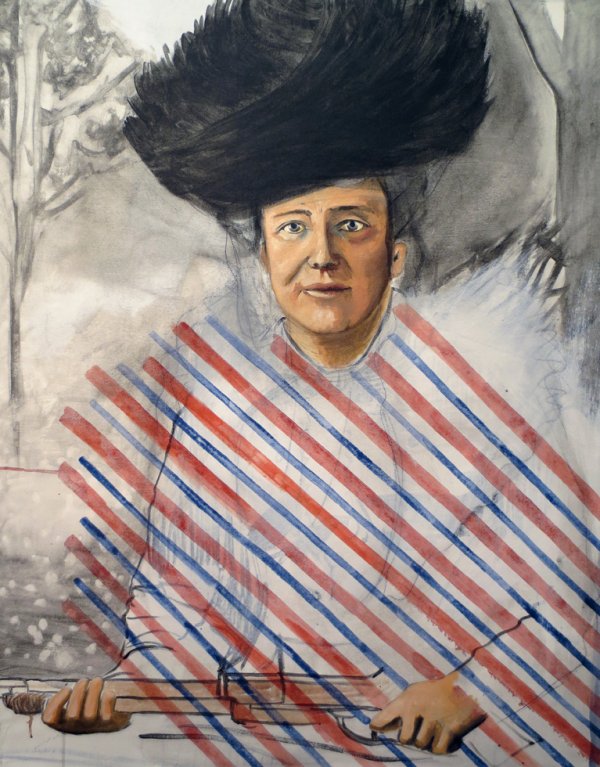 Julie Sutherland: Toward a More Perfect Union
Reception:
Friday, November 2, 2012 -

6:00pm

to

7:30pm
Exhibition Dates:
Oct 1, 2012

to

Jan 1, 2013
Root Division is thrilled to partner with our neighbors at ODC by curating the theater lobby with the work of our Studio Artists and Affiliates. This season, we present the work of Julie Sutherland. Sutherland's work consists of paintings and drawings that use pre-existing visual material to examine issues of power, violence, gender, patriotism and the American West. Her sources range from historic American portraiture, war and war trial photography, to patterns, textiles, and European art history. The Union series combines official portraits of Presidents and First Ladies into androgynous a-historical figures.
Julie is currently a Resident Artist at Root Division. She has taught drawing in our Adult Education Program and will be teaching Acrylic Painting in our next term.
More about the work:
The works in Julie Sutherland's Union series playfully reconstruct figures of American history by combining portraits of US presidents and First Ladies. With images garnered from the Library of Congress collections, each portrait reflects the face of the First Lady, with elements from her husband's portrait and related visual information. These inter-subjective portraits challenge dominant historical narratives, and explore issues of gender and power in American history. Coded in a language of Americana patterning, and symbols associated with Indian Wars, western expansion, art history, and contemporary visual culture, Sutherland's work actively creates new mythologies surrounding these recognizable historical figures.
ODC THEATER
3153 17th Street
San Francisco, CA 94110
www.odctheater.org