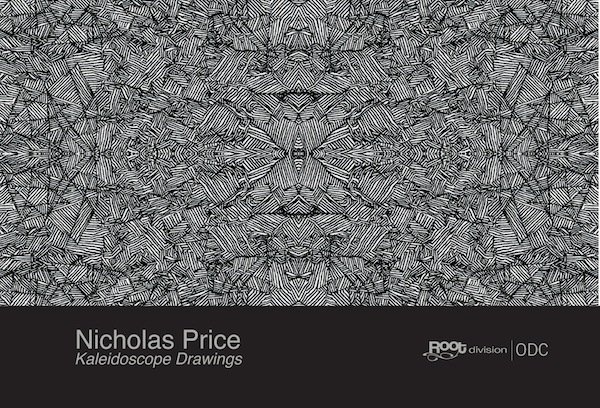 Kaleidoscope Drawings by Nicholas Price
Reception:
Monday, March 4, 2013 -

6:00pm

to

7:30pm
Exhibition Dates:
Feb 1, 2013

to

May 12, 2013
Root Division is thrilled to partner with our neighbors at ODC by curating the theater lobby with the work of our Studio Artists and Affiliates. This season, we present the work of current Studio Artist Nicholas Price. Price's large scale Kaleidoscope Drawings, incorporate drawing, and digital media to create works that play with mirroring, pattern, and perception.
Price's hand rendered, geometric, pen and ink sketches, are transformed through digital collage processes into larger more fully realized artworks. Pieces of the original drawing are broken up and rearranged digitally during the process using mirroring. The transformation of the line drawing expands sixty times it's original size, and deconstructs the original sketch in such a way that though every mark originated from its form, the actual sketch does not exist in the finished work. Patterns emerge out of the center of the artwork, and evolve as the viewer moves around each print, shifting perceptions and actively engaging ideas of repetition, pattern and process.
ODC THEATER
3153 17th Street
San Francisco, CA 94110
www.odctheater.org