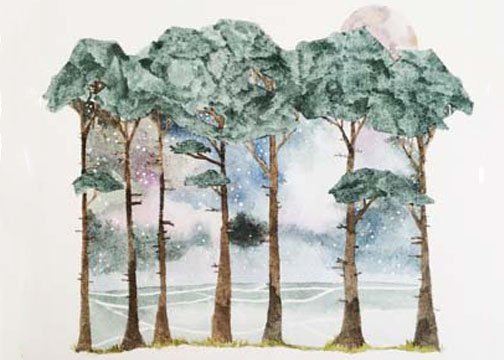 Lindsay Stripling: The Distance of The Moon
2293 Mission Street, Pop Up
Reception:
Saturday, May 23, 2015 -

7:00pm

to

9:00pm
Exhibition Dates:
May 21, 2015

to

Aug 3, 2015
Gallery Hours:
contact events@rootdivision.org
Root Division is excited to present the work of Studio Artist Alumni, and current Affiliate, Lindsay Stripling, to compliment a series of Pop-Up dinners and events hosted by Chef Andreas Bernard at 2293 Mission Street.
Check out Lindsay's newest body of work, at the upcoming "MooseKnuckle," Canadian inspired dinner, or contact events@rootdivision.org for a private viewing.
Event and Ticket Info
*please note that this is a paid event*
Lindsay Stripling is an artist who works with an emphasis on memory, dream and that feeling between sleeping and awake-ness. She is interested in fragmentation, and the moment that our experiences form themselves into lore and legend. Memories are fuzzy and intangible much like dreams, and the more specific she tries to make them the less sharp they become, slipping in and out of focus. In her recent body of work Lindsay is using the nostalgia and familiarity of landscape as a stage to create new and unfamiliar spaces.