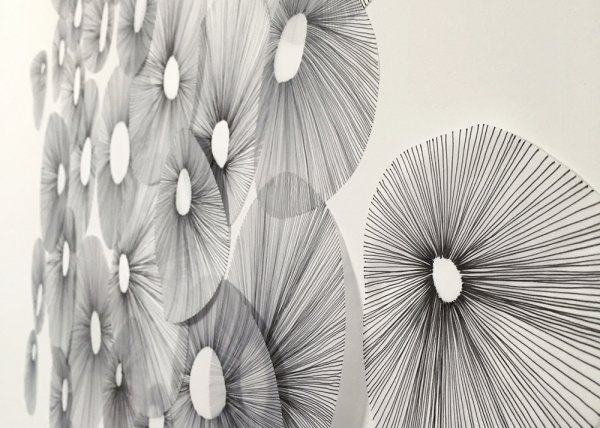 SOMA Grand, 1160 Mission St, San Francisco, California 94103
Exhibition Dates:
Oct 12, 2016

to

Jan 31, 2017
This month at the SoMA Grand, Root Division presents a site specific installation by Elena Patiño. In Monochromatic Cumulus, Patiño uses repetition of line and form to create an undulating biomorphic installation. Through hand drawn ink lines on vellum, the artist's materials establish a direct, physical connection for the viewer with the labor-intensive process. In a culture accustomed to mass production, these overlapping forms highlight the human presence behind the work and create allegoric arrangements where accumulation and metaphor prevail.
Elena Patiño is an artist and educator currently residing in San Francisco after 20 years in the Washington DC area. During her time in Washington DC, She earned a BA in Studio Art from American University, an MFA in Sculpture and Extended Media from the Maryland Institute College of Art in Baltimore and launched her career as an Art Education Specialist. Elena's work has been included in several group exhibitions in venues such as the Delaware Art Museum, the Katzen Arts Center at American University, and the AMA Museum in Washington, DC. A Studio Artist at Root Division since 2015, Elena maintains her love for teaching and continues to be involved in Art Education by teaching free afterschool art classes in Root Division's Youth Education program.