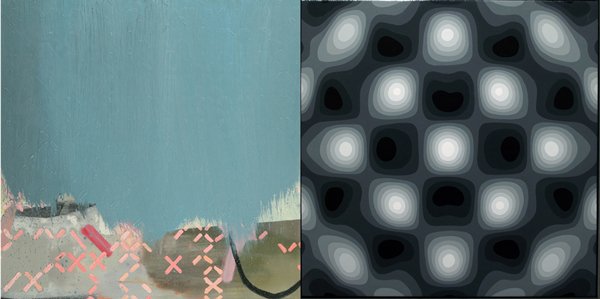 Periodicity: Paintings by Jenna North and Hyun Sun Jo
Reception:
Wednesday, January 12, 2011 -

7:00pm

to

10:00pm
Exhibition Dates:
Jan 5, 2011

to

Feb 6, 2011
Root Division and Heart are pleased to announce a series of exhibitions of Root Division affiliate artists at Heart gallery and wine bar. Beginning in January 2011, Heart will exhibit a rotating schedule of solo and group exhibitions exclusively by Root Division affiliate artists, with a portion of proceeds benefitting Root Divisions programming.
The inaugural show in this series presents two former Root Division studio artists, Korean painter Hyun Sun Jo and Bay Area local Jenna North. Periodicity examines how each of these abstract painters address the relationship between natural and industrial environments. Jo's monumental canvases borrow shapes from modern architecture and the the urban landscape, juxtaposed with organic and gestural marks, while North uses industrial enamel paint in her geometric, grey-tone paintings, which elicit energy felds of pattern formed by frequency waves in nature. Both painters speak to the human fnagling of natural cycles and formations and the resulting periodicity, or patterns, created by the natural world coinciding with elements of human design and technology.
HEART
1270 Valencia Street
San Francisco, CA 94110
917.743.6963
www.heartsf.com