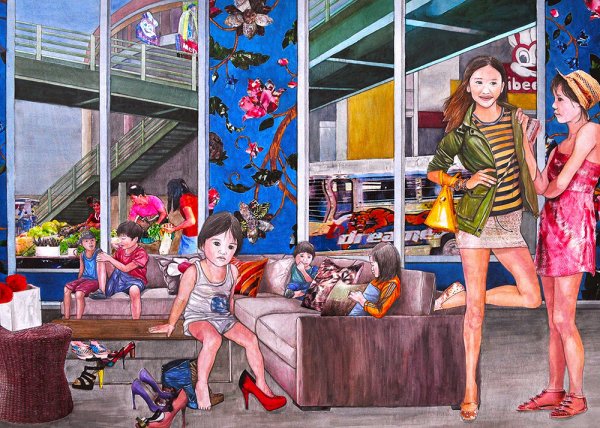 Rea Lynn de Guzman's TL Dreams
Tenderloin Museum, 398 Eddy St, San Francisco, California 94102
Reception:
Thursday, January 12, 2017 -

6:00pm

to

9:00pm
Exhibition Dates:
Jan 12, 2017

to

Feb 23, 2017
Gallery Hours:
Tuesday - Sunday, 10 AM - 5 PM

Join Root Division & the Tenderloin Museum for the opening reception of TL Dreams at the TL Museum Thursday January 12th from 6 - 9 PM. This event will be followed by an artist lecture & closing reception Thursday February 23rd. Learn about Rea's process and hear about her experiences growing up in the Tenderloin; Doors at 6:30 PM, Program at 7 PM.
Rea Lynn de Guzman is an interdisciplinary artist whose work explores psychological and socio-political themes surrounding liminal identity, cultural assimilation, and the Filipino/a diaspora, tempered by her experience as a Filipina immigrant living in the United States. At the age of fourteen, she emigrated from the Philippines to the United States with her single mother, settling eventually in San Francisco. She lived in the Tenderloin—at Turk and Taylor Streets—where she spent most of her formative years (circa 2000-2005).
TL Dreams echoes the idea of the "American dream," inspired by memories shared within the artist's fellow Filipino/a immigrant friends who lived in the neighborhood. It explores the difficult, yet exciting and hopeful journey of finding oneself entangled in a web of changes, cultural confusions, and obstacles while coming of age. It is a recollection of playful and painful memories, transformed into new potential art pieces. This show serves as an homage to the artist's old friends and neighborhood, a not-so-distant place that holds a unique place in her heart.
Rea Lynn de Guzman completed her MFA at the School of the Art Institute of Chicago in 2014. Her work has been exhibited in the Bay Area, Chicago, and even internationally at the Nandalal Gallery in Kolkata, India. A current Root Division Studio Artist, de Guzman teaches in the Youth Education Program at Bessie Carmichael Elementary on Seventh St., and is an active instructor in our Adult Education Program, teaching Mixed Media and Stencil Screen Printing.


This event is sponsored in part by a grant from Grants for the Arts/General Fund Portion of the San Francisco Hotel Tax Fund.