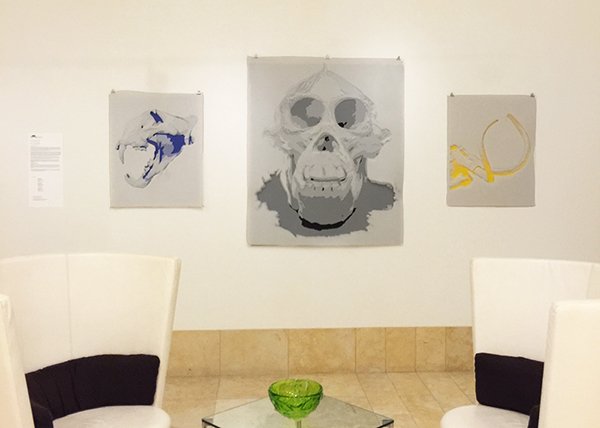 SOMA Grand, 1160 Mission St, San Francisco, California 94103
Exhibition Dates:
May 5, 2016

to

Aug 1, 2016
Kyong Ae Kim is intrigued by the symbiotic relationships of ecology. Living creatures, while fragile and vulnerable, are constantly challenged by their surroundings to evolve and hybridize. Her recent hand-cut work from, The Skulls series is sourced from photographs of endangered species such as the polar bear and elephant. Her work is created with an imaginary and futuristic sense that directs us to the responsibility of seeking a peaceful co-existence within our world.
In Kyong's methodology, digital processes are interplayed with conventional artistic mediums (painting, hand cutting, and drawing). In her studio, miniature figurines are sculpted with clay. Then these figurines are photographed and digitally manipulated for further transformation. Subsequently, the digital images are transformed into multiple layers to imply the time and evolutionary processes. Oscillating between the virtual and physical steps she eliminates, builds on, layer, simplifies and hybridizes the forms to generate the complexity (the process) within simplicity (the final surface) in her work.
Kyong completed her MFA with a merit scholarship at the San Francisco Art Institute in 2005. Her work has been exhibited in the Bay Area, Boston area and many others including OHT gallery, Judi Rotenberg gallery, Watson Fine Art at Wheaton College, Korean Cultural Center in LA, and Aqua Art Fair in Miami. 
Root Division is thrilled to partner with our neighbors at the SoMA Grand by curating their rear lobby with the work of our current Studio Artists. The Skulls will be on view at the SoMA Grand through August 1, 2016 by appointment.