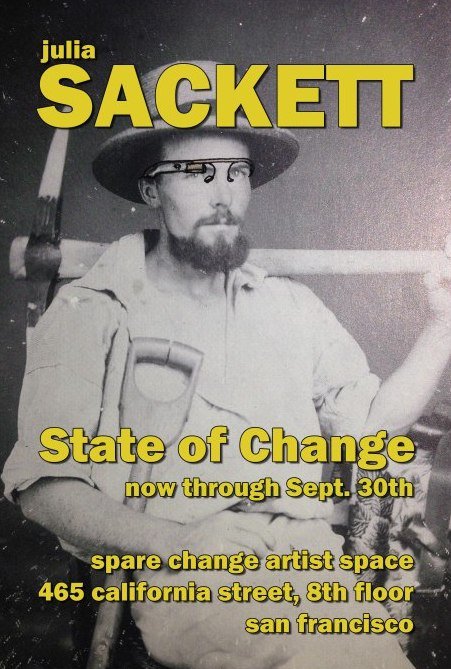 State of Change: Work by Julia Sackett
Spare Change Artist Space
Reception:
Thursday, July 17, 2014 -

6:00pm

to

8:00pm
Exhibition Dates:
Jul 1, 2014

to

Sep 30, 2014
Current Studio Artist, Julia Sackett presents State of Change, a new body of work connecting and visually conflating the current economic boom in San Francisco with the historic Gold Rush. In both instances thousands of young men rush from all over the world to San Francisco to try their hand at making a fortune. The artist describes the connection saying, "Most are between the ages of 18 and 30, most are unattached. They have risked it all to stake their claim, and with dreams of easy money, legendary saloons and loose women, they flock to the streets of San Francisco. They will change this place forever."
As part of this exhibition, Root Division Affiliate Artist Plinio Hernandez will presents "From Sea Otter Capes to Skinny Jeans: A walking tour on power structures, dress styles and urban development of the city of San Francisco." This participatory artist project will explore parts of the original shoreline of Yerba Buena cove as well as dress styles from Native American of the area to current dress styles of San Franciscans today. Along the way the tour will point out buildings, historical sights and stop for readings regarding dress styles.
TO PARTICIPATE IN THE WALKING TOUR*:
Arrive at DG717 (717 Market Street) by 4:30pm and join artist Plinio Hernandez
*This tour will end at Spare Change Artist Space in time for Ms. Sackett's reception.
SPARE CHANGE ARTIST SPACE
465 California St, Suite 838
San Francisco, CA 94104
sparechangeartistspace.com