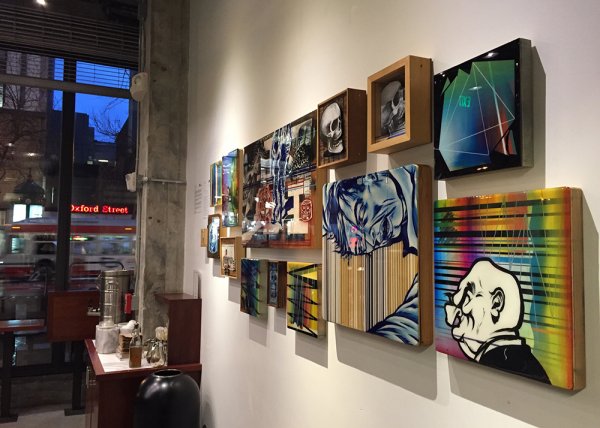 Equator Coffees & Teas, 986 Market St, San Francisco, CA 94102
Reception:
Wednesday, March 16, 2016 -

5:00pm

to

7:00pm
Exhibition Dates:
Jan 6, 2016

to

Apr 5, 2016
Gallery Hours:
Monday - Friday, 6:30 AM – 5:00 PM
Erik J. Beltran is an artist whose practice includes drawing, painting, sculpture, and public murals. In this body of work, the artist taps explores a kind of multicolored consciousness of comical caricatures, graphic abstractions, and train wrecks. This layered linear grouping creates a visual experience meant to mimic the eye-catching color schemes of freshly spray painted boxcars, and incorporates both representational and abstract designs.
Erik's work is deeply influenced by his involvement in urban regeneration of the Central Valley through public art projects and exhibits at the Fresno Arthouse, an artist run studio and gallery, which he co-founded. He relocated to San Francisco to attend the San Francisco Art Institute where he received his MFA in 2015.
Tangential will be on view at Equator Coffees & Teas through April 5, 2016. For sales inquiries, please reach out to Amy Cancelmo, Art Programs Director, Root Division at events@rootdivision.org or 415.863.7668.