Call for Artists: 140 Characters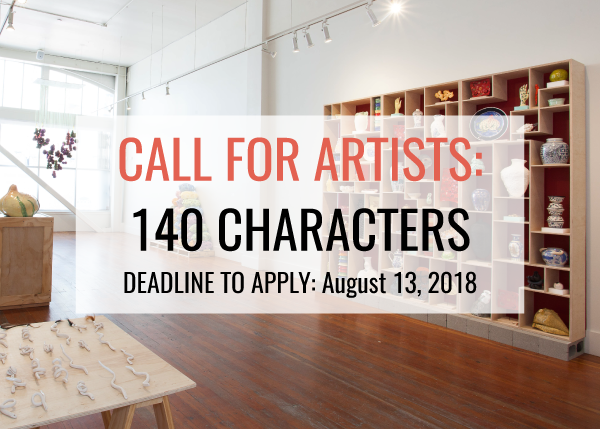 Curated by Margaret Timbrell & Lauren Etchells
Root Division invites artists working in all media to submit work for 140 Characters. This group exhibition will explore the ways in which technology has altered modern language and communication.
The way we communicate is in transition as evolving technologies change our relationship to language and how we relate to one another. Social media, specifically, presents information that can range from enlightening to infuriating. Individuals can simultaneously choose to interact with a myriad of digital platforms to not only absorb information, but also speak their minds and produce content. These platforms are both limited and unrestricted, leaving room for misunderstanding, misinterpretation and misuse of text.
Artists who are working in text-based art, as well as other mediums, are encouraged to submit work exploring communication, consumption of information, impact of screen-culture, and various ways in which technology influences our modes of communication in daily life.
Deadline for Submission: Monday, August 13, 2018 at 11:59 pm
Exhibition Dates: November 7 - December 1, 2018
SUBMISSION REQUIREMENTS:
1. Application Form: https://docs.google.com/...
To complete your submission, please fill out this online submission form.
2. Email to submissions@rootdivision... containing all of the below:
- Artist Statement & CV
- Images: Artists may submit up to four jpeg images of completed works. Video links can be hyperlinked in the submission form. If you are proposing a new work, please send images of completed projects with your proposal.
3. $10 Submission Fee
E-payment can be made via this page at this link https://rootdivision.org...
or by submitting a $10 check or money order made payable to Root Division, mailed to: Root Division, 1131 Mission St., San Francisco, CA 94103.
Please note that the $10 fee must be on file by August 13, 2018 at 11:59 pm for the email submission to be considered.
TO SUBMIT:
Email submissions can be sent to submissions@rootdivision....
Submissions will also be accepted via USPS and can be mailed to:
Root Division, Attn: Submissions, 1131 Mission St., San Francisco, CA 94103
If your submission is mailed, we prefer that all documents are saved as either word docs (.doc) or PDFs (.pdf) and burned to a CD with your images rather than printed.
Deadline for Submission: Monday, August 13th at 11:59 pm
SELECTED ARTISTS:
Artists will be notified about inclusion by September 10, 2018.
QUESTIONS:
Call 415.863.7668 or email Samantha Reynolds, Art Programs Manager at samantha@rootdivision.org with any questions.