Call for Artists: Wander Woman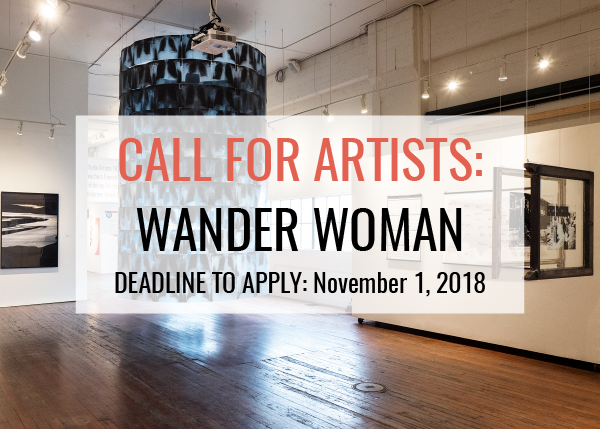 Curated by Rea Lynn de Guzman
Root Division invites immigrant women artists of color who are working in all media to submit work for Wander Woman.
The immigrant, immortal woman from the island of Themyscira, "Wonder Woman" embodies iconic, feminine strength. As an Amazonian-American fictional heroine, she blends into a foreign society to promote justice, peace, and truth.
Many immigrant women artists of color evoke Wonder Woman-esque qualities in their contemporary artistic practices by addressing issues of immigration, misrepresentation, stereotypes, cultural conflict and feelings of acceptance or intolerance with an honest voice to fight for equality. Whether autobiographical or not, Wander Woman exhibiting artists' work will present complex characters and narratives highlighting transcendent experiences, often derived from their own personal perspectives.
Inspired by shared-yet-dissimilar psychological experiences of immigration and assimilation to the Bay Area, selected artists for Wander Woman will present nuanced, intricate perspectives; and narratives that have developed beyond the initial concept of identity in their art practice. Collectively, this exhibition explores complex identity politics such as diaspora, femininity, liminality, and power dynamics.
Submission Deadline: November 1 11:59 PM
Notification Deadline: November 30, 2018
Exhibition Dates: January 9 - February 9, 2019
SUBMISSION REQUIREMENTS:
1. Application Form: https://docs.google.com/...
To mark your submission as complete, please fill out this online submission form.
2. Email to submissions@rootdivision... containing all of the below:
- Artist Statement
- Images: Artists may submit up to four jpeg images of completed works. Video links can be hyperlinked in the submission form. If you are proposing a new work, please send images of completed projects with your proposal.
3. $10 Submission Fee
E-payment can be made via this page at this link https://rootdivision.org...
or by submitting a $10 check or money order made payable to Root Division, mailed to: Root Division, Attn: Wander Women, 1131 Mission St., San Francisco, CA 94103.
Please note that the $10 fee must be on file by November 1st, 2018 at 11:59 pm for the email submission to be considered.
TO SUBMIT:
Email submissions can be sent to submissions@rootdivision....
Submissions will also be accepted via USPS and can be mailed to:
Root Division, Attn: Submissions, 1131 Mission St., San Francisco, CA 94103
If your submission is mailed, we prefer that all documents are saved as either word docs (.doc) or PDFs (.pdf) and burned to a CD with your images rather than printed.
Deadline for Submission: November 1st, 2018 at 11:59 pm
SELECTED ARTISTS:
Artists will be notified about inclusion by November 30th, 2018.
QUESTIONS:
Call 415.863.7668 or email Samantha Reynolds, Arts Program Manager at samantha@rootdivision.org with any questions.