Open Call - MFA Never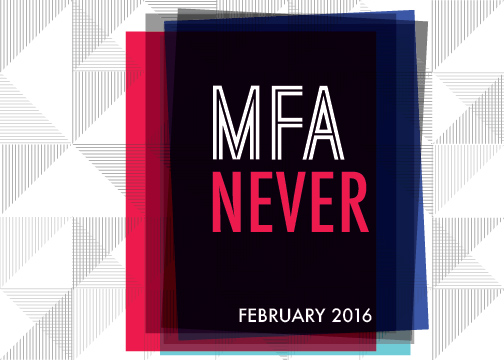 Juried by:
Donna Napper, Assistant Director, Chandra Cerrito Contemporary
Brion Nuda Rosch, Artist & Studio Program Director for Minnesota Street Project
Rhiannon Evans MacFadyen, Founder/Director of A Simple Collective
For the past four years, Root Division has dedicated one month of our exhibitions programs to a juried exhibition of current Bay Area MFA Candidates in an exhibition and archive project called MFA Now. This project will continue at Root Division biennially with the next presentation in February 2017. This year we wanted to do something a little different, and join in the national dialogue around valuation of advanced art degrees.
This February, we're opting to highlight the many talented and successful artists who have opted out of the degree route for one reason or another, in a counterpoint juried exhibition called MFA Never.
The goal of the MFA Never project is to create room for dialogue around alternatives to the MFA route, especially in thinking about how higher education can be exclusive in terms of financial viability, and in representing artists of color, queer artists, "outsider" artists etc. We are looking to create visibility for artists who have found a life and practice in the visual arts outside of the academic machine.
MFA Never was conceptualized by Rhiannon Evans MacFadyen, to create opportunity for underrepresented artists, those who are unaffiliated with alumni networks, and may have not had the debut opportunity offered by the MFA Thesis exhibition. MacFadyen is the founder of A Simple Collective, a contemporary arts organization dedicated to, "access, equality, ingenuity, creativity, and independence."
ABOUT THE MFA NEVER 2016 ARCHIVE PROJECT:
The MFA NEVER 2016 Archive, is an inclusionary publication of all eligible applicants, set to be released in February 2016. All eligible artists who submit to MFA NEVER 2016 will be featured in this archive. The book includes a full page dedicated to each contributing artist and a compilation of essays by Root Division staff, and the panel of exhibition jurors, serving to unpack some of the issues surrounding decisions to not pursue higher education, navigate the contemporary moment in Bay Area outside of the MFA Programs, and find connections between the exhibiting artists.
ABOUT THE MFA NEVER 2016 JURIED EXHIBITION:
Jurors: Submissions will be reviewed by a panel of arts professionals. List of jurors forthcoming.
The jurors will select up to twenty works from the submitted archive materials to be shown in Root Division's gallery for the month of February 2016. An opening reception will be held on February 13th, and will also serve as the archive release party. To be considered for the exhibition, artists must complete the entire submissions process for the archive. The juror will review all submissions. We will notify selected artists of their inclusion in the exhibition by January 15th, 2016. (Please note that the piece(s) in the submitted image should be available for exhibition for the entire month of February 2016.)
ELIGIBILITY REQUIREMENTS:
In order to be eligible for the MFA Never Archive & Juried Exhibition, submitting visual artists must live in one of the 9 Bay Area Counties, and meet 2 of the following 5 criteria:
- Been included in an exhibition to the public or publication within the past 18 months
- Have gallery representation (rental programs like SFMoMA Artist Gallery are eligible)
- Have an undergraduate degree in fine arts or related field
- Currently be a practicing artist (made new work within the past 12 months)
- Define yourself as a working / professional/ emerging visual artist* (i.e. not consider art-making a hobby)
*"Visual Arts" (for the purpose of this opportunity) include sculpture, painting, drawing, film/video, photography, ceramics, textiles/ fiber arts, new genres, film/ cinema, design & technology, conceptual and Information Arts, intermedia/installation and social practice.
CHECKLIST OF APPLICATION MATERIALS:
APPLICATION: Completed online application form: https://docs.google.com/...
SUBMISSION FEE: $20 submission fee - https://www.rootdivision...
Covers an MFA Never candidate's inclusion in the MFA Never 2016 Archive, a copy of the archive, and a chance to be in the MFA Never 2016 exhibition at Root Division. Copies of the archive will be available at the opening and during gallery hours throughout the exhibition. (Please note that the $20 fee must be on file by 1/6/16 for the email submission to be considered. E-payment can be made HERE (https://www.rootdivision...), or submit a $20 check/money order made payable to Root Division.)
IMAGES: Submit your image in one of the following ways:
1. E-mail your image to submissions@rootdivision... The file should be titled LastName_FirstName.tif
2. Upload your image via Dropbox and share a folder with: submissions@rootdivision... The folder and file should be titled LastName_FirstName (Dropbox is a FREE file-sharing service with 2.5 GB of space, but you will need to create an account with user login & password if you do not already have one. https://www.dropbox.com )
Note for artists submitting video: Please submit a video still (at specs listed above) for print in the publication. For juror review, include a link to the video at the end of the statement section on the online application. For best results, we highly recommend links to Vimeo or YouTube rather than individual websites.