FRANK-RATCHYE PROJECT SPACE - 2017-2018 Teaching Artist Fellows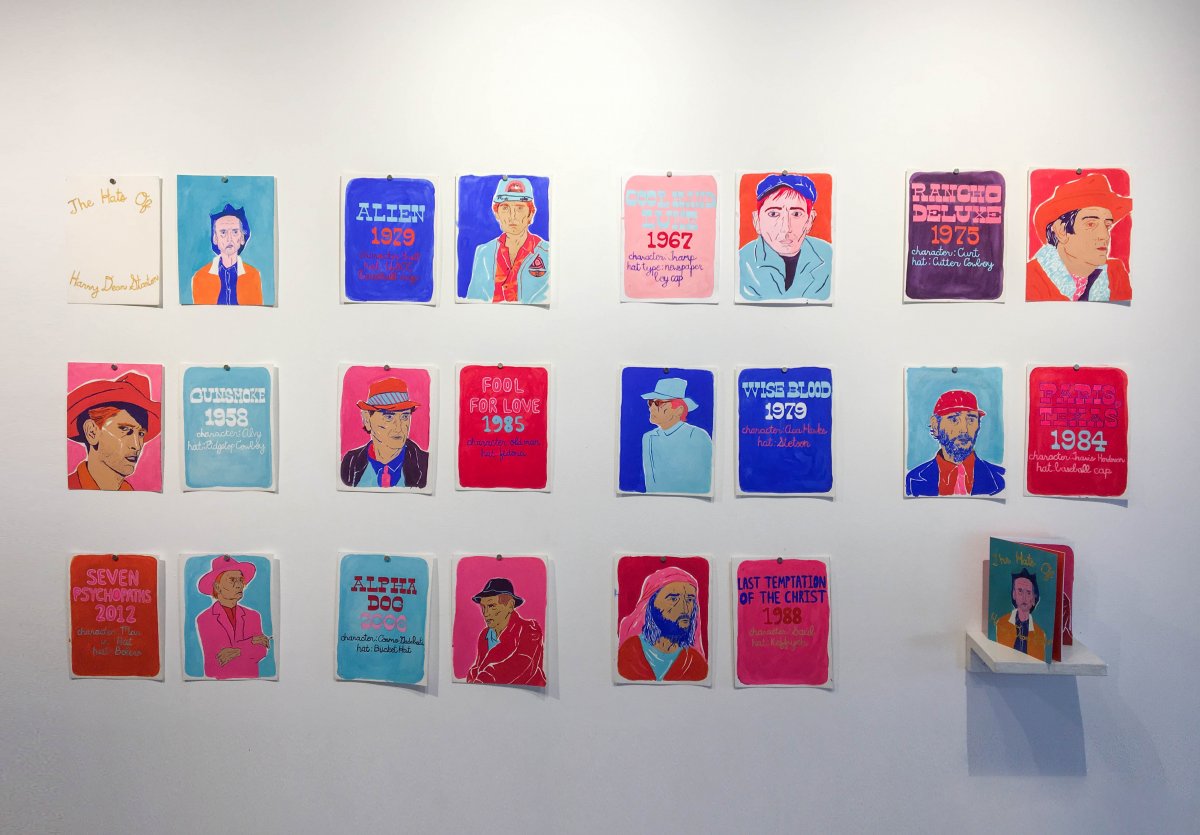 Image: Claire Astrow, The Hats from The Hats of Harry Dean Stanton series, 2018, Gouache on paper, 6 x 8 in. each/pair
For the month of May, as we celebrate the work being made in our Youth Education Program in the gallery with New Growth, we are proud to highlight the practices of our three Teaching Artist Fellows in the Frank Ratchye Project Space.  Our fellows, Claire Astrow (Blau-Gold Teaching Artist Fellow), Greta Liz Anderson  (Latina Teaching Artist Fellow) and Beatriz Vasquez (Latina Teaching Artist Fellow), each receive a fully subsidized studio, as well as artist and materials stipends in exchange for teaching 20 hours per month at our partner school sites.
Diverse in their individual practices, each of the three Teaching Artist Fellows apply aspects of their studio practice and areas of interest and to their teaching practice enriching arts education for underserved youth in our community. Considering objects relation to identity, place and culture is both taught in the classroom, and clearly seen in the paintings, sculpture and installations on view.
ABOUT THE ARTISTS:
Claire Astrow: Blau-Gold Teaching-Artist Fellow
Claire Astrow is a Los Angeles native now residing in Oakland, CA. Both cities play an integral role in her art practice, which investigates the division of urban blight, nostalgia, and yearning found in urban landscapes. Astrow received her BA in Art Practice from University of California, Berkeley and has since shown her work at Salt Fine Art Gallery, The University Club of San Francisco, and the NIAD Art Center.
Greta Liz Anderson: Latinx Teaching-Artist Fellow
Greta Liz Anderson's work consists of interactive installations and performance through wearables that challenge and build on various models of social construction. Anderson is a multidisciplinary artist born and raised in Asunción, Paraguay. She received her BFA from the Fashion Institute of Technology and her MFA from the San Francisco Art Institute. Anderson has had public installations and performances in New York and San Francisco including at the de Young Museum. Most recently, she has had solo exhibitions at TechShop, San Francisco and in her home country, Paraguay.
 
Beatriz Vasquez: Latinx Teaching-Artist Fellow
Beatriz Vasquez grew up on the border towns of Brownsville, Texas and Matamoros, Mexico, her family migrated to Indianapolis, Indiana where she found her creative talents from the need to connect with her Mexican Culture and Heritage. Vasquez ultimately found her identity through the pre-columbian craft of papel picado. She holds a B.A in Fine Art from Herron School of Art and Design in Indianapolis, IN, and has exhibited in galleries in Chicago, Il., Austin, TX., Milwaukee, WI., Dayton, OH., Columbus, OH, Kansas City, MI., Orlando, Fl., Los Angeles, CA., Oakland, CA., and Goshen, IN.
MORE ABOUT THE FELLOWSHIPS
The Blau-Gold Teaching Fellowship is made possible by a gift from the estate of the late Lonny Darwin, a supporter of education and the arts. The Fellowship, named for Ms. Darwin's late mother, Emmy Blau-Gold, is designed to support an emerging artist for one year by providing free studio space and a monetary stipend. The Blau-Gold Teaching Artist Fellow acts as the Resident Teaching Artist at one of our partner school sites, Cesar Chavez Elementary and Buena Vista Horace Mann K-8.
The Latinx Teaching Artist Fellow acts as Resident Teaching Artist at one of our partner school sites, Mission Education Center, a K-5 school for newly arrived immigrant students who speak only Spanish. Part of the commitment involves adapting an existing curriculum and project called My Two Homes, in which students participate in discussions and art-making around their transition to a new home in the U.S.  
The Frank-Ratchye Studio Artist Project Space provides a gallery for Root Division artists to connect and engage in dialogue around the work being made on site, and to exhibit their art to the public. The Project Space is located on our rear mezzanine, and is free and open to the public during gallery hours in conjunction with the current exhibition. This space is made possible with the generous support of Ed Frank and Sarah Ratchye.