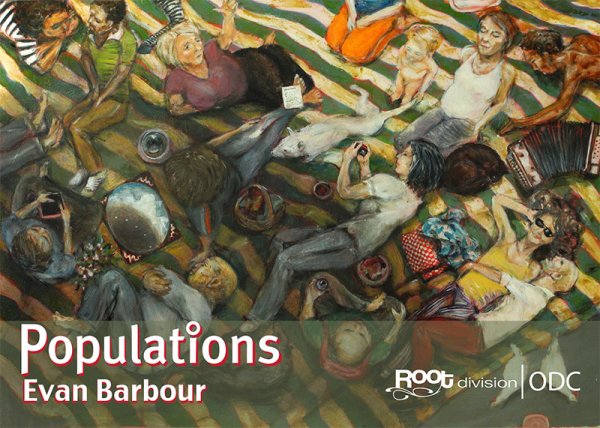 Populations: Work by Evan Barbour
Reception:
Wednesday, January 8, 2014 -

6:00pm

to

7:30pm
Exhibition Dates:
Dec 23, 2014

to

Feb 26, 2015
Root Division is thrilled to partner with our former neighbors at ODC by curating the theater lobby with the work of our Studio Artists and Affiliates. This season, we will present a series of shows addressing the shifting landscape of San Francisco. Our first features a new body of work by Evan Barbour, former Studio artist and current Affiliate, linking the aerial views of humans to slides of microbiology, in a nuanced commentary on surveillance and overpopulation.
Juxtaposing overhead scenes of contemporary human culture with scenes reminiscent of microscopic life, Populations suggests that human crowds and protozoic masses may be viewed in the same way, that it's just a matter of scale. In an era of aerial drones and widespread video surveillance, certain members of our society are in fact viewing human populations in much the same way that microbiologists study single-celled beings. Whether this is a positive or negative development is a matter of opinion. But regardless of your point of view, perhaps we all should take time to look up and consider whether or not we are being watched.
Trained as a biological illustrator, Evan Barbour currently explores a range of subject matter through painting, photography and sculpture, often using various media to complement each other within a vein of work. Whatever the technique employed, Evan's art typically portrays densities of life, clusters of organisms, familiar and unfamiliar. Whether representing organic or artificial subjects, these amalgamations present tableaus wherein numerous interpretations may be gleaned as the viewer's eye pinballs from component to component.
Populations presents a shift in Evan's process. While still including biological subjects (including humans), all figures are drawn solely from the imagination without consulting reference models or photos. Realness has often been eschewed in favor of the surreal, the fantastical.


To view more of Evan's work, please visit:
evanbarbour.com [1]
weegargantua.com
 [2]