FRANK-RATCHYE PROJECT SPACE - CLAIRE R LYNCH
Frank-Ratchye Studio Artist Project Space
CLAIRE R. LYNCH
Exhibition Dates: March 9 - 26
, 2016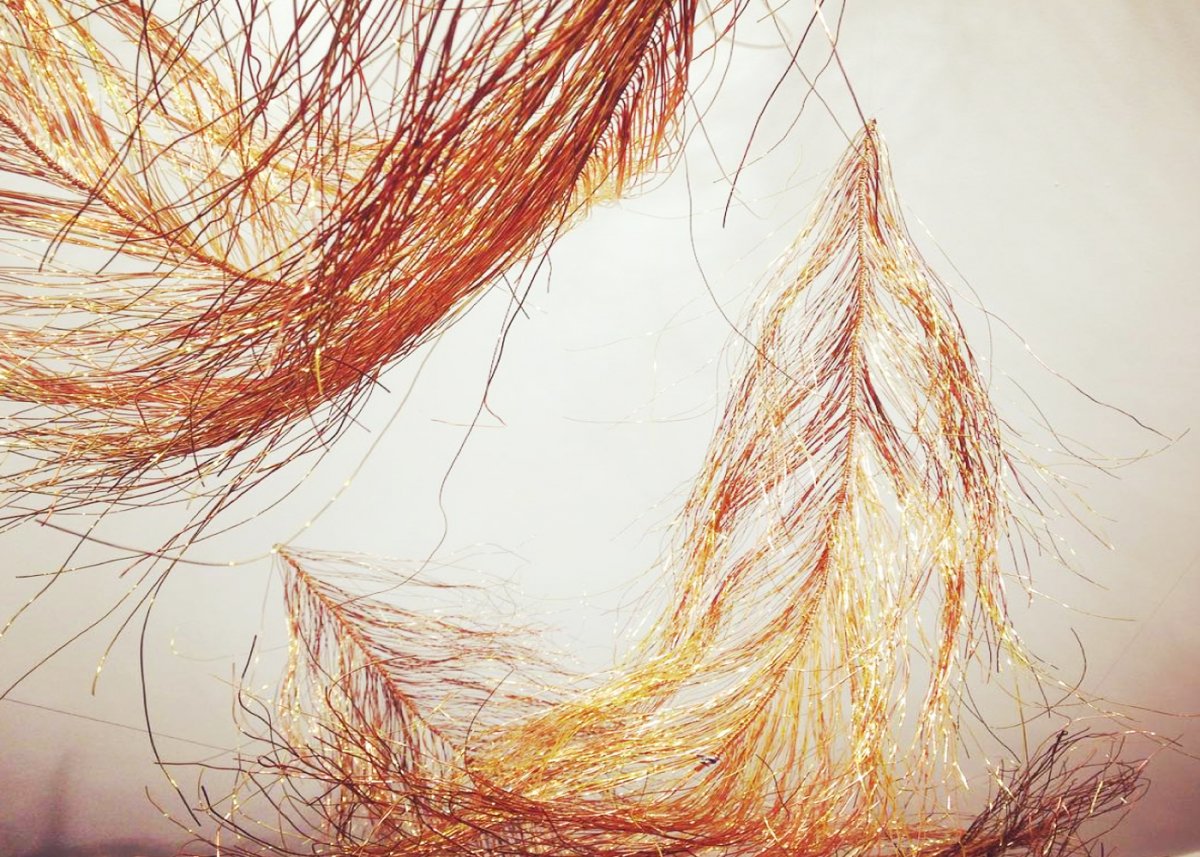 Image: Feathers, 2016. Copper wire, dimensions vary.
This March in the Frank-Ratchye Studio Artist Project Space, Root Division's Blau-Gold Teaching Fellow, Claire R. Lynch, presents a site-specific sculptural installation. Feathers is the second piece in the artist's Exterior Series, which explores the transmutation of a seemingly aggressive material, here a sharp strand of copper wire, into a more inviting, and beautiful form.
Each feather in the installation is made of hundreds of sharp strands of wire tightly knotted together to give the illusion of delicate, soft, weightlessness. This installation is exemplary of the artist's interest in creating a space for beauty and fragility within violent and aggressive materials.
Claire was born and raised in Arlington, Virginia, but did not discover her interest in sculpture until her junior year at Stanford University. Since the start of her sculpture practice in 2012, Claire has aimed to create a space for beauty and fragility within violent and aggressive materials to have their balance be recognized and appreciated in the public sphere. 
Claire has been a Root Division Studio Artist since July of 2015, where she serves as the Blau-Gold Teaching Fellow. The Blau-Gold Studio/ Teaching Fellowship (BGSTF) is made possible by a gift from the estate of the late Lonny Darwin, a supporter of education and the arts. The Fellowship, named for Ms. Darwin's late mother, Emmy Blau- Gold, is designed to support an emerging artist for one year by providing free studio space and a monetary stipend. In keeping with Root Division's mission, the Fellow will teaches Root Division's Youth Education Program and be an active participant in the Studios Program. Claire has been working with elementary and middle school students at Buena Vista-Horace Mann.
The Frank-Ratchye Studio Artist Project Space provides a gallery for Root Division artists to connect and engage in dialogue around the work being made on site, and to exhibit their art to the public. The Project Space is located on our rear mezzanine, and is free and open to the public during gallery hours in conjunction with the current exhibition. This space is made possible with the generous support of Ed Frank and Sarah Ratchye.