FRANK-RATCHYE PROJECT SPACE - ELENA PATINO
Frank-Ratchye Studio Artist Project Space
ELENA PATIÑO
Exhibition Dates: July 7 - 23
, 2016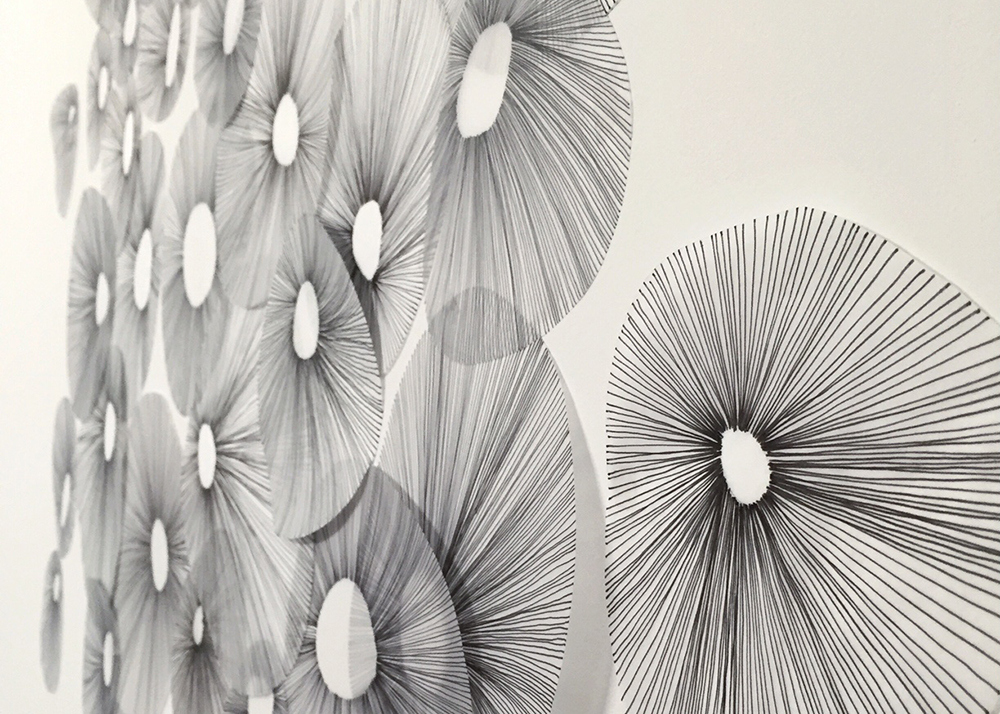 Image: Monochromatic Cumulus, 2016. Mixed media, dimensions vary.
This July Root Division presents a site specific work by Elena Patiño in the Frank-Ratchye Studio Artist Project Space. In Monochromatic Cumulus, Patiño uses repetition of line and form to create an undulating biomorphic installation. Through repetitive forms made of hand drawn ink lines on mylar, the artist's materials establish a direct, physical connection for the viewer with the labor intensive process. In a culture accustomed to mass production, these overlapping forms highlight the human presence behind the work and create allegoric arrangements where accumulation and metaphor prevail.
Elena Patiño is an artist and educator currently residing in San Francisco after twenty years in the Washington DC area. During her time in Washington DC, she earned a BA in Studio Art from American University, an MFA in Sculpture and Extended Media from the Maryland Institute College of Art in Baltimore and launched her career as an Art Education Specialist. Elena's work has been included in several group exhibitions in venues such as the Delaware Art Museum, the Katzen Arts Center at American University, and the AMA Museum in Washington, DC.
The Frank-Ratchye Studio Artist Project Space provides a gallery for Root Division artists to connect and engage in dialogue around the work being made on site, and to exhibit their art to the public. The Project Space is located on our rear mezzanine, and is free and open to the public during gallery hours in conjunction with the current exhibition. This space is made possible with the generous support of Ed Frank and Sarah Ratchye.