FRANK-RATCHYE PROJECT SPACE - EVA ENRIQUEZ
Frank-Ratchye Studio Artist Project Space: Eva Enriquez
Exhibition Dates: December 9 - 14
, 2017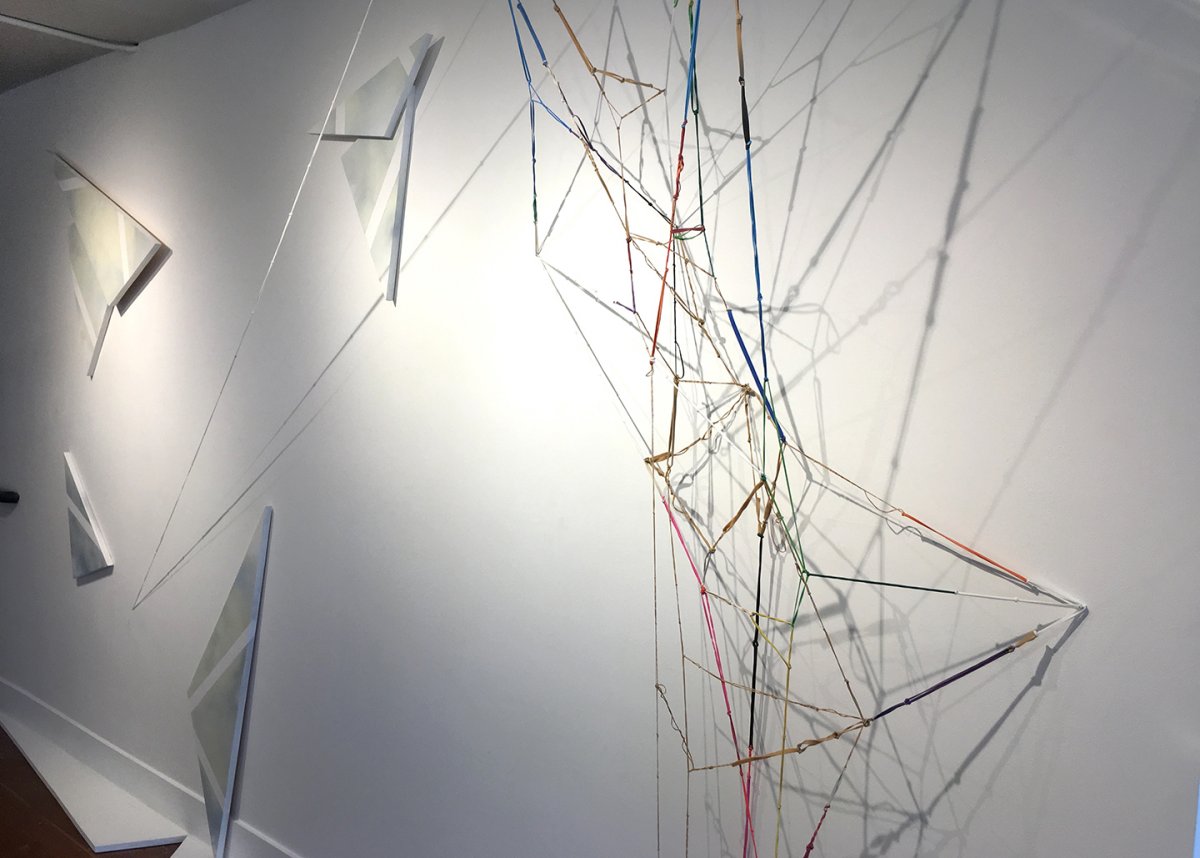 Image: des-enredos, installed in Frank-Ratchye Project Space, December 2017

For the month of December, Eva Enriquez has inserted playful, geometric line into the Frank-Ratchye Project Space. Using bright, vivid colors and a range of materials, Enriquez invites viewers to explore varying levels of space and texture.
This site-specific installation, des-enredos, is both a return and departure for Enriquez. Inspired by Brazilian artist Lygia Clark's experimentation with rubber bands, Enriquez began to experiment with the material within her own practice. In des-enredos, Enriquez tests the tension points of each rubber band creating a web of diverging and converging lines that run from floor to ceiling.
Additionally, Enriquez has added specific architectural elements. Lying flat on the floor, subtle, wooden triangles enter into the Project Space, creating a seamless extension of the wall. A series of wooden triangles are also exhibited adjacent to the maze of rubber bands. These spray painted forms create an airy, floating-like quality that is juxtaposed with their sharp, angular lines. As a whole, these different components of Enriquez's installation offer more than one perspective on dimensionality and an opportunity to untangle lines in space.
About the Artist:
Eva Enriquez was born and raised in Madrid, Spain. She holds a BFA with a minor in theatre from the University of Hawaii at Manoa, Hawaii. Enriquez works as a teaching artist in San Francisco and currently teaches as both a Youth and Adult Education Instructor at Root Division. Her interactions with people and environment are a source of knowledge and continued inspiration for her work.
The Frank-Ratchye Studio Artist Project Space provides a gallery for Root Division artists to connect and engage in dialogue around the work being made on site, and to exhibit their art to the public. The Project Space is located on our rear mezzanine, and is free and open to the public during gallery hours in conjunction with the current exhibition. This space is made possible with the generous support of Ed Frank and Sarah Ratchye.
Learn More About Eva: