FRANK-RATCHYE PROJECT SPACE - HUNTER FRANKS
Frank-Ratchye Studio Artist Project Space
HUNTER FRANKS
Exhibition Dates: February 8 - 24
, 2017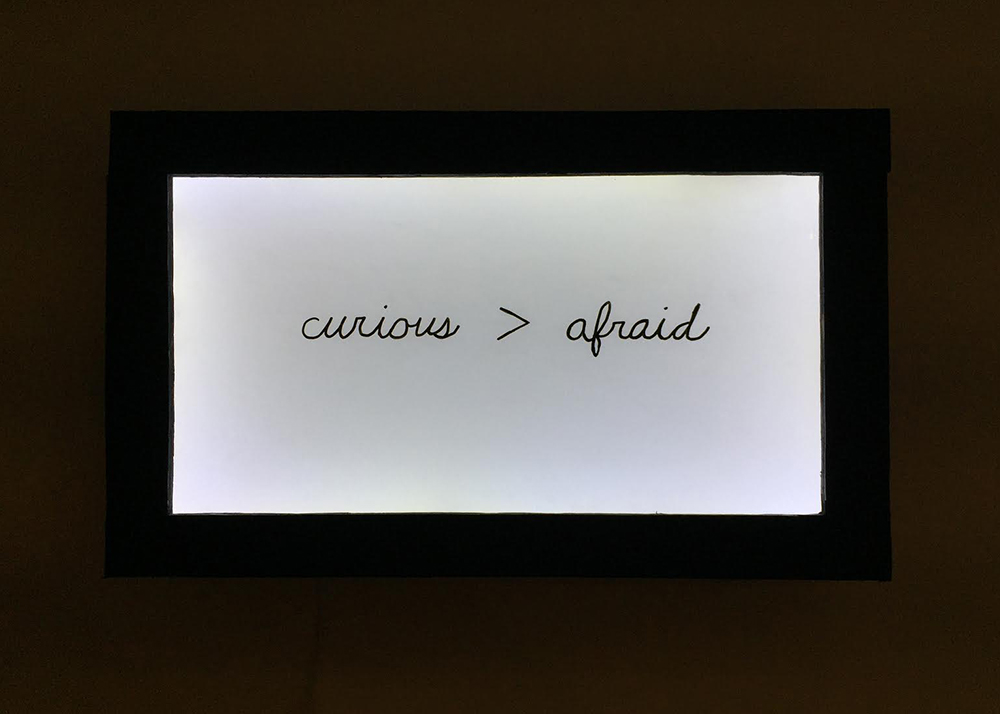 Image: More Or Less, 2017, Mixed Media, 25 x 14.74 x 4 inches.

In Hunter Franks newest works, More Or Less invites the viewer into a shared moment of introspection. These comparisons of ​feelings​ and mindsets​​ transform the known framework of complex mathematical equations into simple reflections on the importance that values can have in guiding everyday decisions. Illuminating these insights elevates them to moments of discovery and reminders of solidarity.
Hunter Franks creates invitations to reimagine our social and physical landscapes. Projects include a 500 person dinner on a freeway, a storytelling exchange to connect disparate neighborhoods, a public display of first love stories, and a vacant warehouse turned community hub. His Neighborhood Postcard Project has been carried out in 23 communities from Chennai, India to Santiago, Chile and his League of Creative Interventionists has chapters in cities around the world from Cologne, Germany to Wichita, Kansas. His work has displayed around the United States including at the Akron Art Museum, Google, 111 Minna Gallery, and Philadelphia Mural Arts Program.
The Frank-Ratchye Studio Artist Project Space provides a gallery for Root Division artists to connect and engage in dialogue around the work being made on site, and to exhibit their art to the public. The Project Space is located on our rear mezzanine, and is free and open to the public during gallery hours in conjunction with the current exhibition. This space is made possible with the generous support of Ed Frank and Sarah Ratchye.
LEARN MORE ABOUT HUNTER