FRANK-RATCHYE PROJECT SPACE - LEIGH ANN COLEMAN
Frank-Ratchye Studio Artist Project Space
LEIGH ANN COLEMAN
Exhibition Dates: June 7 - 24
, 2017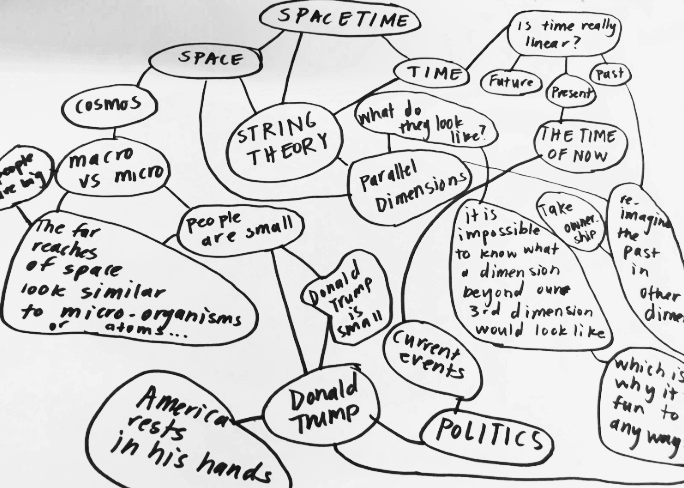 Image: Space-TIme, sketch for installation in Frank-Ratchye Project Space, 2017

Leigh Ann Coleman is fascinated by the subject of time and space. Approaching her art making from the perspective of a scientist, Coleman's hand-painted network links various concepts from "String Theory" to "parallel dimensions" to "people are small" - emphasizing the push-pull relationship between our experience of both macro and micro levels.
In response to today's current political climate, Coleman has re-steered her attention to capture the "time of now" to create a snapshot of the present. Her goal is to reimagine the space and time we occupy, as a way of coping, connecting, understanding, and taking ownership of the present moment.
Born and raised in Long Beach, California, Leigh Ann Coleman found her way to the Bay Area in 2010. Coleman received a BA in Art & Art History from San Francisco State University in 2014. With a great love of experiments, Coleman draws inspiration from the minds of scientists, programmers, and physicists - interlacing their ideas by putting humanity into cosmic perspectives. The curiosity to fully grasp physiological theories in a visual sense has steered her to view art making as a scientific process, experimenting with ideas and materials. A current Studio Artist, Coleman teaches "Water Based Media" in Root Division's Adult Education Program.
The Frank-Ratchye Studio Artist Project Space provides a gallery for Root Division artists to connect and engage in dialogue around the work being made on site, and to exhibit their art to the public. The Project Space is located on our rear mezzanine, and is free and open to the public during gallery hours in conjunction with the current exhibition. This space is made possible with the generous support of Ed Frank and Sarah Ratchye.
LEARN MORE ABOUT LEIGH ANN COLEMAN