FRANK-RATCHYE PROJECT SPACE - MARGARET TIMBRELL
Frank-Ratchye Studio Artist Project Space
MARGARET TIMBRELL
Exhibition Dates: Nov 9 - 30
, 2016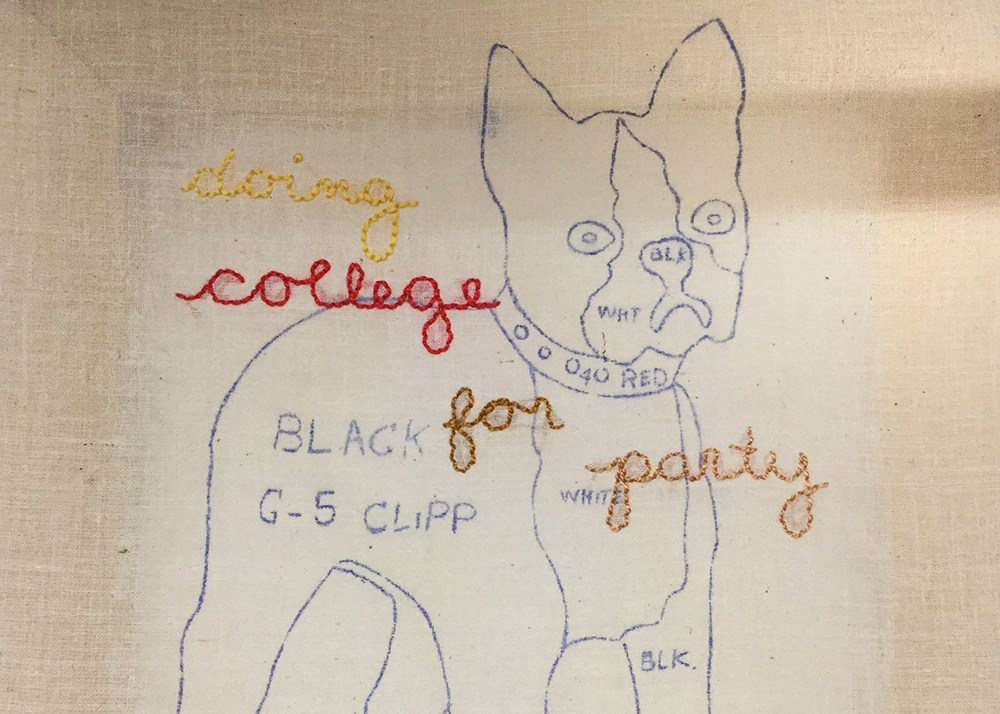 Image: College, 2016, Cotton floss on vintage cheesecloth stamped for embroidery, 13 x 13 x 2 inches.
Margaret Timbrell embraces all of life's blunders in her new collection of work Life Fails, currently on display in the Frank-Ratchye Project Space for the month of November. Madness in Redwork, a frenetically-embroidered vintage tablecloth, captures the kind of "fail" that new mothers with crying babies are uniquely aware of as madness creeps in and interrupts the domestic ideal. Referencing a more humorous type of "fail," Timbrell's AutoCorrect Fail series highlights the comical ways that technology inserts itself into our conversations and changes their entire meaning. Using re-purposed vintage stitch-kits, Timbrell enacts her own version of auto-correct by altering the content of these prefabricated crafts and stitching over them with delightfully erroneous failures in communication.
Margaret Timbrell was born in Brazil, raised in San Francisco and graduated from NYU with a Bachelor's degree in Studio Art. In San Francisco she has exhibited at SOEX, Mark Wolfe Gallery, di Pietro Todd, Incline Gallery. Her work has appeared in the SF Examiner, LA Times, Bust Magazine, and Blouin Art Info. In 2012, Timbrell was selected as a Heart Artist for the Heroes & Hearts annual fundraiser benefiting SF General Hospital. Timbrell's work was showcased at the StARTup Fair San Francisco in 2015 and 2016. In 2018, she will be the Artist in Residence at the San Jose Museum of Quilts & Textiles.
 
The Frank-Ratchye Studio Artist Project Space provides a gallery for Root Division artists to connect and engage in dialogue around the work being made on site, and to exhibit their art to the public. The Project Space is located on our rear mezzanine, and is free and open to the public during gallery hours in conjunction with the current exhibition. This space is made possible with the generous support of Ed Frank and Sarah Ratchye.
LEARN MORE ABOUT MARGARET