Frank-Ratchye Project Space: Natasha Carlos
Frank-Ratchye Studio Artist Project Space
NATASHA CARLOS
Exhibition Dates: July 7 - 29
, 2017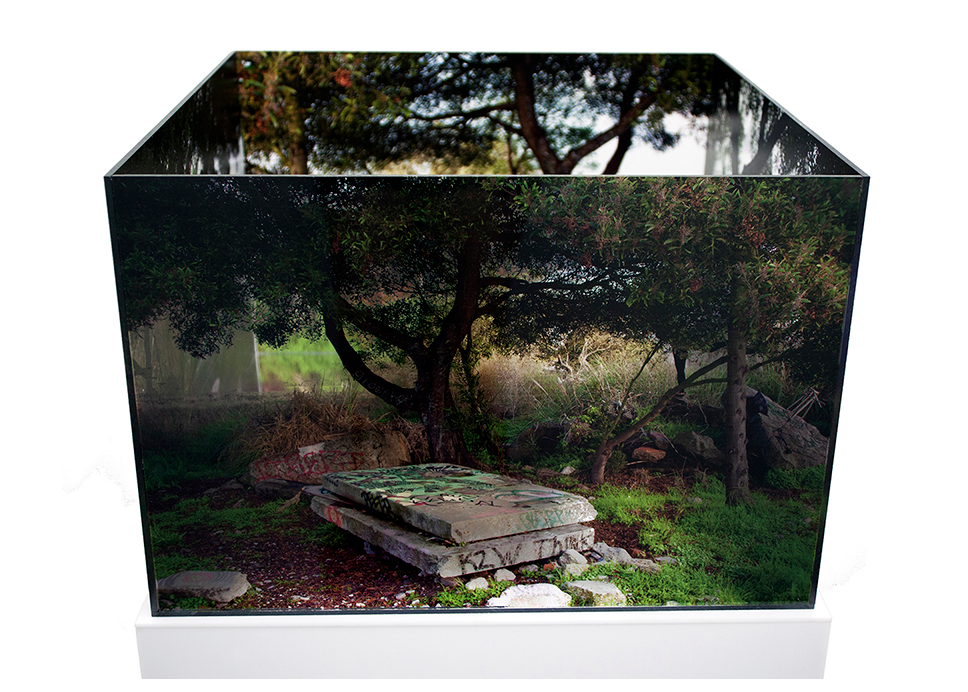 Image: Natasha Carlos, Site A (Self-portrait), photographic sculpture, digital inkjet acrylic prints, mirror, 16 x 24 x 24"
By repetitively visiting the same site, Natasha Carlos captures the infinite vantage points and perspectives of a singular landscape. Acting as a pseudo-explorer, Carlos' body is always present in this simultaneously specific and ambiguous outdoor environment. For Carlos, this site operates as a sanctuary from the whirling pace of urban life. Through the process of layering and presenting photographs as multi-dimensional sculpture, Carlos' imagery provokes viewers to slow down their typical mode of looking to consider the multiple perspectives of a particular place.
Natasha Carlos is a photographer working across mediums to explore her ritualistic need to visit the same sites. Born in New York, Carlos received her BA in Public Relations at American University in Washington, D.C. in 2009 and received her MFA in Photography from the San Francisco Art Institute in 2016. As a current Root Division Studio Artist, Carlos teaches photography in the Youth Education Youth Education Program at Horace Mann Middle School in San Francisco.
The Frank-Ratchye Studio Artist Project Space provides a gallery for Root Division artists to connect and engage in dialogue around the work being made on site, and to exhibit their art to the public. The Project Space is located on our rear mezzanine, and is free and open to the public during gallery hours in conjunction with the current exhibition. This space is made possible with the generous support of Ed Frank and Sarah Ratchye.
LEARN MORE ABOUT NATASHA CARLOS