FRANK-RATCHYE PROJECT SPACE - NICHOLAS HULLIBARGER
Frank-Ratchye Studio Artist Project Space
NICHOLAS HULLIBARGER
Exhibition Dates: Sept 7 - 24
, 2016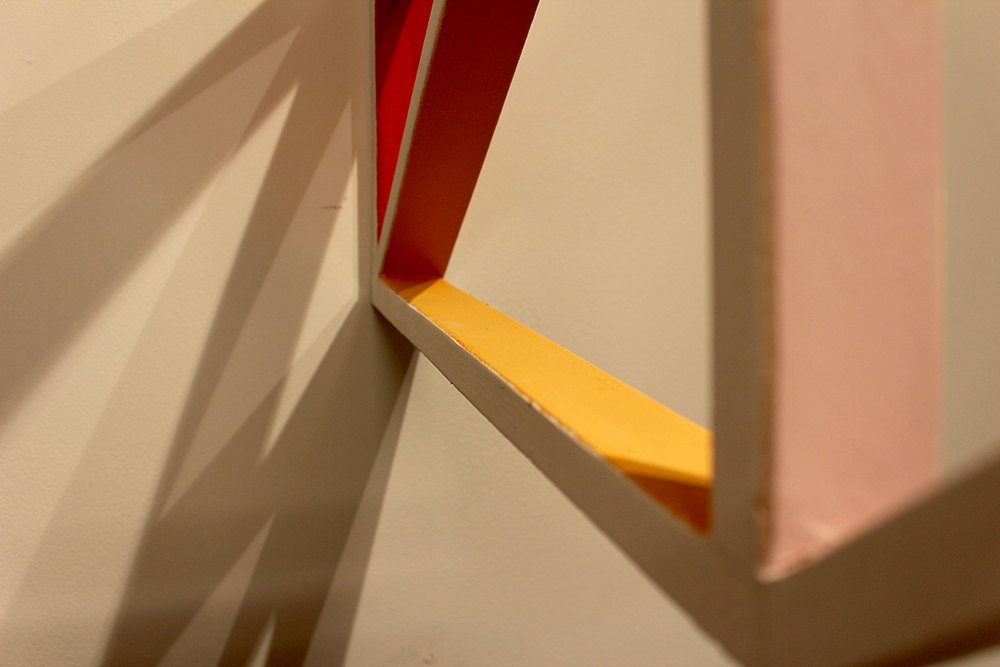 Image: Spatial Bianary Six; 2016; Wood, Acrylic Paint, Space; 30 x 20 x 2 inches.
This September Root Division presents Nicholas Hullibarger in the Frank-Ratchye Studio Artist Project Space. Nicholas Hullibarger's Spatial Binary Six creates a dimensional environment by the use of aesthetic relationships, color, distance proximity and form. At its foundation his work invites the viewer to slowly observe their surroundings in-order to bridge the formal relationships of the 2D and 3D aspects of the work. Hullibarger's Spatial Binary Six seek to visually and socially explore the subtle nuances of curated gallery spaces. He draws inspiration from sources outside of the art world, such as anthropology, linguistics, and cognitive science.
Born and raised in South Eastern Michigan, Nicholas Hullibarger began his artistic discovery at Siena Heights University, where he majored in Mixed Media and Art History. He then went to receive his MFA at the Massachusetts College of Art and Design in Boston. Now residing in Oakland, CA, Hullibarger's new work focuses on space, relational aesthetics and time.
The Frank-Ratchye Studio Artist Project Space provides a gallery for Root Division artists to connect and engage in dialogue around the work being made on site, and to exhibit their art to the public. The Project Space is located on our rear mezzanine, and is free and open to the public during gallery hours in conjunction with the current exhibition. This space is made possible with the generous support of Ed Frank and Sarah Ratchye.
LEARN MORE ABOUT NICK