Frank Ratchye Project Space: Paula Lucia
Frank-Ratchye Studio Artist Project Space
Paula Lucia
Exhibition Dates: September 1 - 30
, 2017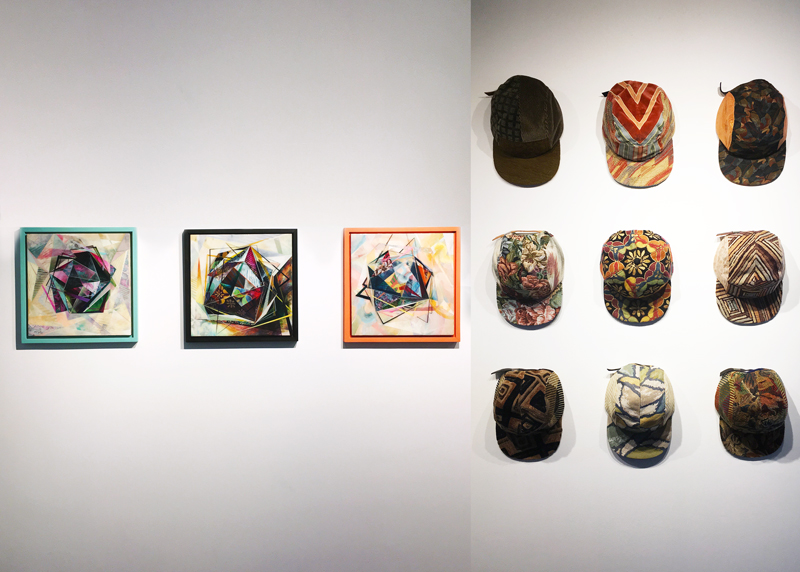 Image: Paula Lucia in the Frank Ratchye Project Space
Paula Lucia is fascinated in finding the balance between opposing forces within abstraction. Her two-dimensional work creates space that is both flat and layered; color that is simultaneously harmonious and unbalanced; and imagery that is graphic and abstracted. Lucia's paintings create swirling worlds of geometric forms in which the viewer is transported to a new, window-like realm -- only to then be pushed out again.
In her recent work, Lucia has developed a reciprocal relationship between her paintings and brand of snapback hats. Lucia's approach to reclaimed materials is utilized as collage with her paintings and then re-purposed fabric for her hats. Placed in relationship to one another, these individualized hats take on new meaning as a singular object - pushing forward the intention of wearable art. 
Paula is interested in the simplicity of a single geometric shape and the complexity that can be created through the combination of many simple structures. Her compositions feel both graphic and flat, painterly and layered. The hybridization of these opposing characteristics creates an experience that is not easily digested at one glance. Lucia is from Los Gatos, California. She holds a BFA in Art & Design from Cal Poly San Luis Obispo. She currently works as a children's art teacher in San Mateo and is a Root Division Studio Artist living in San Francisco.
The Frank-Ratchye Studio Artist Project Space provides a gallery for Root Division artists to connect and engage in dialogue around the work being made on site, and to exhibit their art to the public. The Project Space is located on our rear mezzanine, and is free and open to the public during gallery hours in conjunction with the current exhibition. This space is made possible with the generous support of Ed Frank and Sarah Ratchye.
LEARN MORE ABOUT PAULA LUCIA