FRANK-RATCHYE PROJECT SPACE - PEREZ & RODRIGUEZ
Frank-Ratchye Studio Artist Project Space
ALEJANDRA PÉREZ AND BLANCA ESTELA RODRÍGUEZ
Exhibition Dates: May 11 - 21
, 2016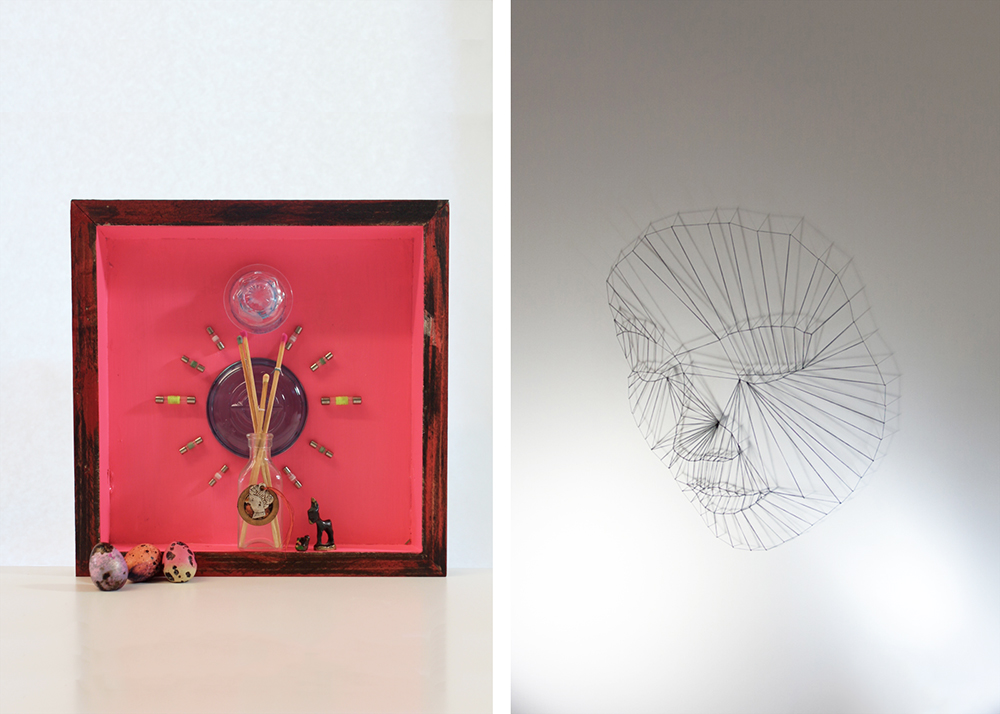 Image: Alejandra Pérez, 2016 (left). Blanca Estela Rodríguez, 2016 (right).
This March in the Frank-Ratchye Studio Artist Project Space, Root Division's presents two solo, site specific installations by Latino Teaching Artist Fellows, Alejandra Pérez and Blanca Estela Rodríguez.
In, Mothers, Love, and Dementia, Alejandra Pérez expands her practice of conserving and preserving stories and memories in miniaturas, presenting a large scale installation set within a mock-house set. Celebrating the overlapping stories and multiple personal pasts of family folklore, the artist situates her signature miniature sculptural assemblage works within home space. The small, retablo like forms feature the likes of doll sized stoneware, seeds from last year, spark plugs, a messy bird's feathers, and pigments, carefully crafted into archival relics.
Blanca Estela Rodríguez's new body of work explores the possibilities of portraiture through abstraction. Sourcing faces from her own photographic practice, the artist presents this subject in a new medium. Threading a single filament through multiple needle's eyes, the artist delineates the main facial contours. Using this figurative geometry and leaving details to interpretation, she challenges expectations of realism and truth.
The Frank-Ratchye Studio Artist Project Space provides a gallery for Root Division artists to connect and engage in dialogue around the work being made on site, and to exhibit their art to the public. The Project Space is located on our rear mezzanine, and is free and open to the public during gallery hours in conjunction with the current exhibition. This space is made possible with the generous support of Ed Frank and Sarah Ratchye.