FRANK-RATCHYE PROJECT SPACE - RAPHAEL NOZ
Frank-Ratchye Studio Artist Project Space
RAPHAEL NOZ
Exhibition Dates: June 8 - 25
, 2016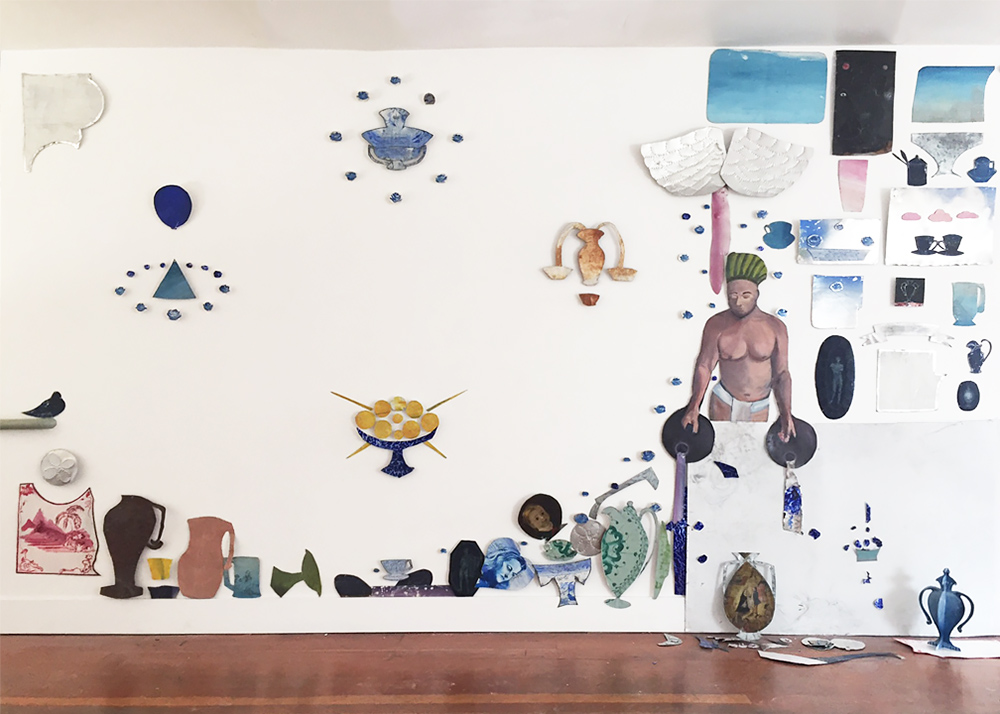 Image: Re-Configurations, 2016. Mixed media, dimensions vary.
This June Root Division presents Raphael Noz in the Frank-Ratchye Studio Artist Project Space. In his site specific installation, Noz continues his longtime practice of working in metal. Noz creates images and shapes, often painting directly on the metal, only to cut up, "cobble them" together again later as new configurations. The shapes come from an interest in William Blake's engravings of Wedgwood creamware shapes from the 1700's; while the imagery started from an interest in English ceramics being produced in Mexico in the 1800's.
Originally from Los Angeles, Raphael Noz has lived in San Francisco for more than 10 years. A former Root Division Latino Teaching Artist Fellow, Raphael Noz has been an active Studio Artist with the organization since 2013. He has taught in both the Youth and Adult Education Programs, serves on the Curatorial Committee, and assists with installation and event production. Noz's multi-faceted practice includes both performance and object based work. Recent exhibitions include The San Diego Museum of Art, Yerba Buena Center for the Arts, Berkeley Art Museum, and Cal State Chico.
The Frank-Ratchye Studio Artist Project Space provides a gallery for Root Division artists to connect and engage in dialogue around the work being made on site, and to exhibit their art to the public. The Project Space is located on our rear mezzanine, and is free and open to the public during gallery hours in conjunction with the current exhibition. This space is made possible with the generous support of Ed Frank and Sarah Ratchye.