Frank-Ratchye Project Space: Rebecca Simon
Frank-Ratchye Studio Artist Project Space
Rebecca Simon: Expectations
Exhibition Dates: August 4 - 19
, 2017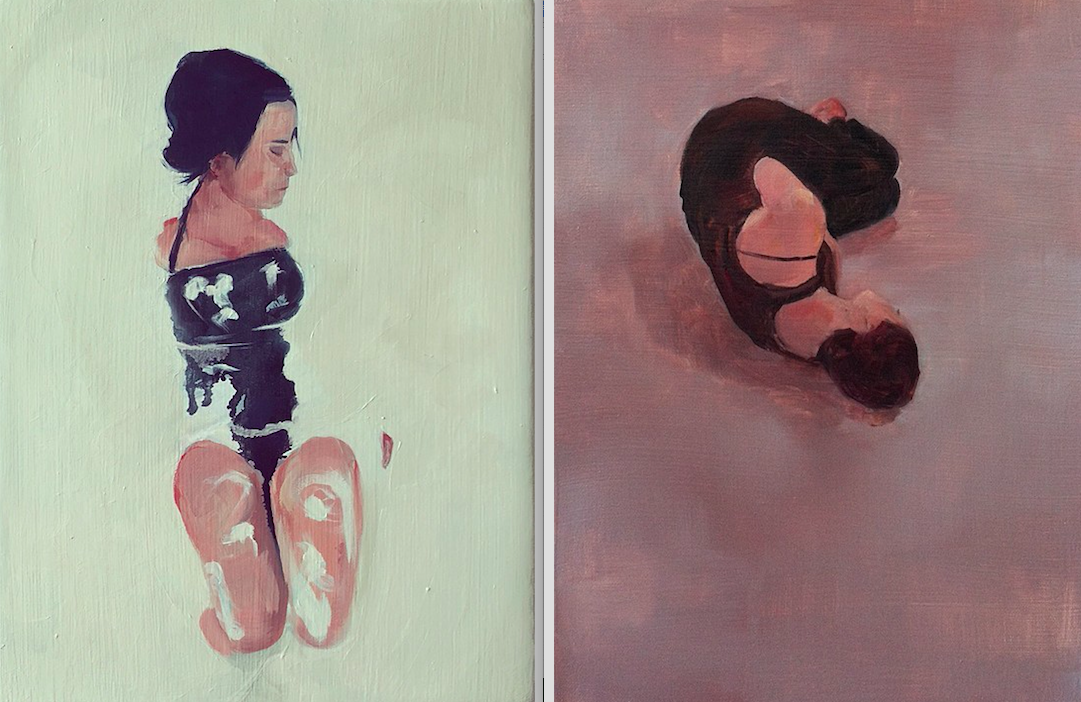 Image: Rebecca Simon, Milk (left) and Dream (right), Oil on canvas,, 9 x 12 in. each
Rebecca Simon's paintings analyze the impact of the psychological state upon the physical body. In her most recent series, Simon captures the isolated moments of raw vulnerability during pregnancy. With obscured faces and contorted bodies, Simon places her female figures in highly personal moments of unease and discomfort. 
Exploring the complexity and physicality of pregnancy, Simon's paintings highlight that although there are aspects that are publicly celebrated; pregnancy is ultimately an internal, solitary experience. In the current political climate, Simon's paintings take on a greater sense of urgency and necessity when the female body has become more jeopardized and at risk. Ultimately, Simon aims to create a greater sense of empathy for these figures that are both specific and universal.
Rebecca Simon's paintings reflect the absurd, enigmatic, and often awkward elements of the human experience. Her paintings invite reflection on cultural norms and expectations, gender dynamics, and feelings surrounding futility or inadequacy. Simon received her BA in Fine Arts from the University of Pennsylvania in 2005 and post-baccalaureate certificate from the School of the Art Institute of Chicago the following year. Rebecca received her MFA from Hunter College in New York City in 2010.
A current Root Division Studio Artist, Simon has previously taught Oil Painting and Drawing 101 as part of Root Division's Adult Education Program. This fall, Simon will be teaching a Figurative Drawing class, which is now open for enrollment. 
The Frank-Ratchye Studio Artist Project Space provides a gallery for Root Division artists to connect and engage in dialogue around the work being made on site, and to exhibit their art to the public. The Project Space is located on our rear mezzanine, and is free and open to the public during gallery hours in conjunction with the current exhibition. This space is made possible with the generous support of Ed Frank and Sarah Ratchye.
LEARN MORE ABOUT REBECCA SIMON