FRANK-RATCHYE PROJECT SPACE - TEACHING ARTIST FELLOWS
Frank-Ratchye Studio Artist Project Space
CURRENT TEACHING ARTIST FELLOWS
Exhibition Dates: May 9 - 19
, 2017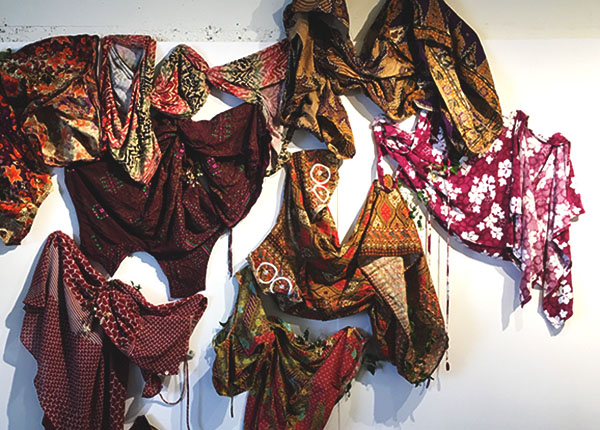 Image: Kimberley Acebo Arteche, The Duster Project, 2017, Dusters piña fibers,
jasmine wines collected from Minna and Natoma Streets, dimensions variable

For the month of May, as we celebrate the work being made in our Youth Education Program in the gallery with New Growth, we are proud to highlight the practices of our four Teaching Artist Fellows in the Frank Ratchye Project Space. Our fellows, Kimberley Acebo Arteche (Blau-Gold Teaching Artist Fellow), Rea Lynn de Guzman (Filipina Teaching Artist Fellow), Sofia Sinibaldi (Latina Teaching Artist Fellow) and Indira Urrutia (Latina Teaching Artist Fellow), each receive a fully subsidized studio, as well as artist and materials stipends in exchange for teaching 20 hours per month at our partner school sites.
Diverse in their individual practices, each of the four Teaching Artist Fellows apply aspects of their studio practice and areas of interest and to their teaching practice enriching arts education for underserved youth in our community. Considering objects relation to identity, place and culture is both taught in the classroom, and clearly seen in the paintings, sculpture and installations on view.

ABOUT THE ARTISTS: 
Kimberley Acebo Arteche: Blau-Gold Teaching-Artist Fellow
Kimberley Acebo Arteche is a second-generation Filipina American originally from the metropolitan Washington, DC area. The Duster Project explores the strength and resilience of the Filipina woman. Dusters are 'pambahay'; colorful dresses or mumus worn around the home. Acebo Arteche's installation expresses the ability of the diasporic Filipina to thrive on new lands, much like the jasmine vine, and make beauty and holy wherever she goes. Arteche is an educator, community advocate, and artist working with photography, Philippine diasporic textiles, and installation. She is a graduate of San Francisco State University's School of Art and is affiliated with Epekto Art Projects and the Filipinx American Artist Network.
Rea Lynn de Guzman: Filipina Teaching-Artist Fellow
Rea Lynn de Guzman is an interdisciplinary artist working in painting, print media, and sculpture. Originally from Manila, Philippines, she immigrated to the United States as a teenager. In her latest body of work, de Guzman navigates through the colonial history of the pineapple in the Philippines, the native's appropriation of the piña fiber, and its relationship with the idealized female character of "Maria Clara" (a mestiza woman in Jose Rizal's novel, Noli me Tangere). De Guzman's work presents and challenges the displacement of native ideals by the colonizer. Through the process of repetitive layering and a palette evoking skin tones, she experiments with the tactility of specific materials such as image transfers on synthetic organza to extract and repudiate these imposed ideals and stereotypes. de Guzman received her MFA from the School of the Art Institute of Chicago and her BFA from the San Francisco Art Institute.
Sofia Sinibaldi: Latina Teaching-Artist Fellow
Sofia Sinibaldi grew up in Guatemala and came to San Francisco to study fine arts at the San Francisco Art Institute, and has been in the Bay Area since 2012. As a sculptor, she utilizes found objects and enjoys seeing how these objects have the capacity to morph through the art making process. Sofia is constantly thinking about how "things" are interacted with and consumed; how something we see in the street can become autobiographical, slowly clinging to the body, becoming an extension of ourselves as if some sort of prosthetic. This work examines the effects of vision and specifically the loss of vision through the interpretation of object information. This new body of work questions how information is first translated and then traduced into something else. What is the new (mis)information created? For Sinibaldi, a new inventory of information and divisions between one self and the rest of the world is left remaining. Without the identification of oneself as a separate entity, we create cyclical patterns of objects facing objects.
Indira Urrutia: Latina Teaching-Artist Fellow
Indira Urrutia is a Chilean-born visual artist who immigrated to New Haven, Connecticut in 1986 with her entire family. She has a Bachelor of Science in Studio Art with a specialty in Photography from Southern Connecticut State University. Indira has allowed her passion for photography to guide her into explorations of other formats such as mixed media, installation art, and experimental video. Having access to a studio space for the first time as the Latina Teaching Artist Fellow, Urrutia has used the opportunity to create a new body of work. Over the course of the past year, Urrutia has experimented with various wire knitting techniques. The sculpture, Tapete is inspired by the work of Bay Area artist, Ruth Asawa. This is her latest piece from this series, Everything Starts from the Center. Urrutia's passion for teaching allows her to transmit the importance of free artistic expression in a safe environment, wherein she encourages students to experiment with their own creativity.
 
MORE ABOUT THE FELLOWSHIPS
The Latinx Teaching Artist Fellows act as Resident Teaching Artists at Mission Education Center, a K-5 school for recently immigrated Spanish speaking youth. Both Sinibaldi and Urrutia adapted existing curriculum and project called My Two Homes, in which students participate in discussions and art-making around their transition to a new home in the U.S. The Blau-Gold Teaching Artist Fellow and Filipina Teaching Artist Fellow act as Resident Teaching Artists at Bessie Carmichael Elementary School, a K-5 school and Filipino Education Center in San Francisco. Both, de Guzman and Arteche are teaching art curriculum to students in both English and Tagalog.

The Frank-Ratchye Studio Artist Project Space provides a gallery for Root Division artists to connect and engage in dialogue around the work being made on site, and to exhibit their art to the public. The Project Space is located on our rear mezzanine, and is free and open to the public during gallery hours in conjunction with the current exhibition. This space is made possible with the generous support of Ed Frank and Sarah Ratchye.