THE FRANK-RATCHYE PROJECT SPACE - XIAO WANG
Frank-Ratchye Studio Artist Project Space
XIAO WANG
Exhibition Dates:
Jan 6 - 30
, 2016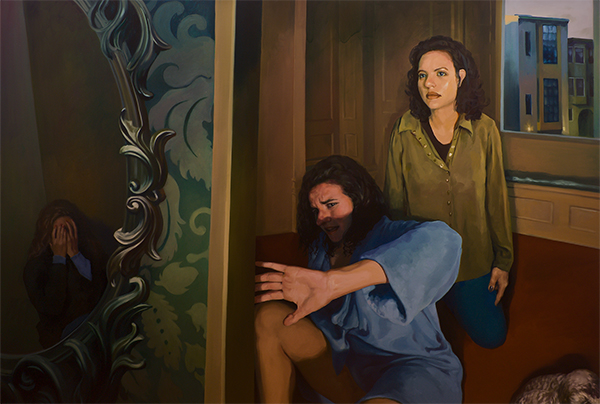 Image: Untitled, 2015. Oil on canvas, 50 x 72 inches.
This January Root Division presents Xiao Wang in the Frank-Ratchye Studio Artist Project Space. Xiao's realist paintings depict figures and objects in spaces that evoke a sense of sinister while evading explicit narratives. His expertly rendered imagery is tense with cinematic drama through his muted color palettes, thin layers of glazing, and Rembrandt-esque use of chiaroscuro.
Xiao Wang has been a Studio Artist at Root Division since July of 2015, where he teaches in the Adult Education program, and leads private drawing and painting lessons for students of all ages. Originally from China, Wang received a BFA in Painting and Printmaking fro the Glasgow School of Art in Scotland, before continuing his studies at San Francisco Art Institute's MFA Program in Painting. Wang's work has been exhibited in Glasgow, London and California at spaces including Candid Art Trust, Studio 41, Fort Mason Center, Diego Rivera Gallery, Arc Gallery, Chico Art Center and SOMArts Cultural Center. He is a 2014 recipient of the Murphy and Cadogan Contemporary Art Award from San Francisco Foundation, and was recently awarded 1st place for Anne Bremer Memorial Prize, 1st place for "Mind, Spirit & Emotion II" at Art-Competition, and silver award for Art Forward Contests.
The Frank-Ratchye Studio Artist Project Space provides a gallery for Root Division artists to connect and engage in dialogue around the work being made on site, and to exhibit their art to the public. The Project Space is located on our rear mezzanine, and is free and open to the public during gallery hours in conjunction with the current exhibition. This space is made possible with the generous support of Ed Frank and Sarah Ratchye.