TASTE Menu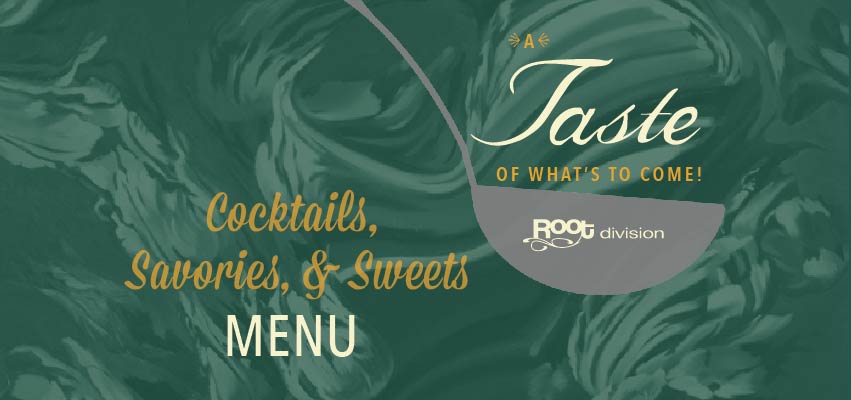 TASTE 2015 presents a night of inspired local food, drink, art, and live music to benefit Root Division! Thank you to all of our participating chefs and mixologists!
Cocktails
Art in the Age
Cocktails by Chris Cardillo
Specialty cocktails from Craft Spirits - Root, Snap, Rhubarb Tea, and Sage
Asiento
Cocktails by Mauricio Moe Arce
"Papa's Pilar Shipwreck" - Papa's Pilar Dark Rum, Pineapple Gum Syrup, Guava Juice, Lime Juice; "The Sparkle Pom" - Pomegranate Juice, House made Ginger Syrup, Orange Slice, Soda
DOSA
Cocktails by Brian Martinez
South Indian Gin & Tonic
Drink Verbena
Cocktails by Bret Sylvester
"Meyer Lemon Collins" - refreshing and tart Meyer lemon cocktail with notes of cardamom, allspice & juniper berries; "Pineapple Spritzer" - fresh sweet pineapple with a habanero liqueur; "Cherry Sling" - a tropical refreshment, made with freshly infused vanilla beans, cherries & pineapples.
Infinium Spirits
Cocktails by Erik Ginther
"Fratelli Takes Manhattan" - Templeton Rye, Carpano Antica Formula Vermouth, Carpano Dry Vermouth, Fernet-Branca
Justice Grace Vineyards
Wine tastings with Eric Cohen
Wine TBD
Local Cellar
Wine tasting with Jake Des Voignes
Fiction red and white wine from Field Recordings
Monarch
Cocktails by Fred Acebo
"The Velvet Slip" - A bright, citrus forward, aperitif style cocktai with Cocchi Americano, Lemon Juice, Velvet Falernum, Absinthe, & Orange Twist.
Mosto
Cocktails by Danny Louie
Ya Mon - Fresno chili infused El Jimador blanco, Velvet Falernum, pineapple, lime, mint
Oddjob
Cocktails by Joey Picchi
"Voodoo Eyes" - London Dry Gin, Huckleberry & Cardamom Preserve, Gomme Syrup, Fresh Lime, Soda, & Brandied Huckle Berries
Savories
Bisou Bistronomy SF
Chef Nick Ronan
TBD
Buffalo Club
Chef Mark DeVito
TBD
Chino
Chef Blake Askew
Bo Kho Tartare, American Wagyu beef, egg emulsion, black sesame puff
Citizen Fox
Chef Kevin Schuder
Crostini with tofu misozuke and mushroom pate; Smoked beet tartare with avocado puree in endive; Chilled asparagus soup; & Deviled potatoes
DOSA
Chef Anjan Mitra
Spicy Mung Salad - In house sprouted lentils, shredded coconut, spicy cilantro-mint vinegrette
Le Colonial
Chef Terrence Khuu
Banh Chum - Mini soft crepes filled with jicama, king oyster mushroom, nuoc cham, coconut cream, scallion oil
Local Mission Market
Chef Jake Des Voignes
Smoked hummus, radish and peas on crostini; Vanilla pound cake with seasonal fruit compote
Pig & Pie
Chef Derek McCarthy
Pork & Veal Meatballs with spicy tomato sauce and fried cheeses.
Sweets
Dandelion Chocolate
Chef Dana Crary
Chocolate tastings - 70% Mantuano, Venezuela; 70% San Francisco de Marcoris, Dominican Republic; 70% Ambanja, Madagascar
Piccino
Chef Michaela Nelsen
Assorted cookies, mini fruit tarts, and mini almond tea cakes
Ritual Coffee Roasters
Espresso by Jesse Gonzales and Hannah Simonsen
Espressos and Gibraltar Lattes