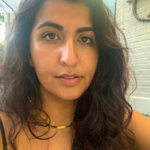 Bio
Anisa Esmail is an arts and culture writer, fashion designer, and abstract figurative painter. Born in Alameda County, CA, in 1992. She resides in Oakland, CA, and works in San Francisco, CA. She has shown her artwork at Minnesota Street Projects, Southern Exposure, and Root Division. An art major at San Francisco State University, Anisa Esmail is also an active member of the arts community with previous education from the San Francisco Art Institute. She also freelances as a dressmaker and womenswear designer.
Artist Statement
I explore my identity through the artwork I create. I draw inspiration from femininity, organic shapes, bright colors, expressive linework, and abstraction.
I am currently investigating two series of artwork. My first series dives into my parent's journey to the United States. I am researching different themes about culture, assimilation, America in the 1970's, Kenya in the 1960's, marriage, partnership, family, fashion, and memory. This series will range from mixed medium paintings on stretched paper to constructed garments with prints from specific paintings. My second series is painting with oil paint on canvas that illustrates my life right now–people, places, sentimental objects. In this series, I will document my experiences and dive into my relationship with memory nostalgia and how I place importance on different moments. The concept of this series is still ongoing.
Selected Work