In our Studios Program, we provide discounted work space and valuable professional and creative development opportunities for 25-30 Studio Artists. In exchange the artists give back to the community through volunteer service in arts education and public programming.
Meet our artists!
Every month we feature a Studio Artist's artwork in our Frank-Ratchye Project Space gallery.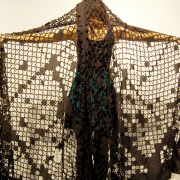 Kiana Honarmand
Kiana Honarmand is an Iranian artist whose work addresses issues related to her cultural identity, the treatment of women in Iran's society, censorship, surveillance, and the Western perception of the Middle East. Derived from her interest in different materials and processes, Kiana's interdisciplinary practice features the use of digital fabrication tools as well as traditional methods of craft. In 2012, Kiana moved to the United States to pursue and complete her Master of Fine Arts degree, and currently, she lives and works in the Bay Area. Her work has been exhibited internationally and throughout the United States.
VIEW THE EXHIBITION

Exhibition Dates:
Aug. 25- Sept. 16, 2021
Join us this September for Alicia McDaniel's solo exhibition MALA•FIDES ...
Read More