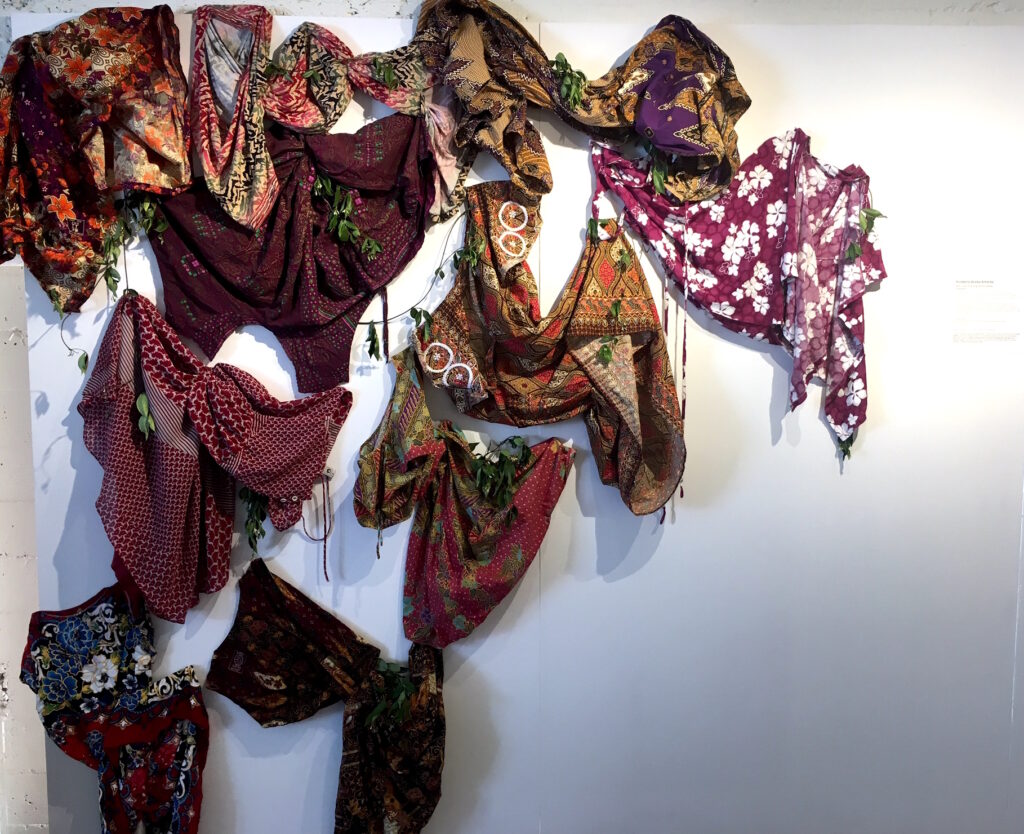 Hello RD Blog followers! My name is Samantha Reynolds and I am thrilled to be the 2017-2018 Exhibitions Fellow. Over the past year, I have worked as the Exhibitions Intern at Root Division, so it is a real privilege to continue to work with RD's amazing team and Studio Artists in a new capacity.
Outside of my role at Root Division, I work as the Gallery Manager at Pro Arts in Oakland. At Pro Arts, I manage our Arts Integration program, organize exhibitions with Bay Area curators, facilitate the Studio Lab Residency program and help with the day-to-day operations of the space.
As the Exhibition Fellow, I will be checking in each month to highlight current and upcoming projects by Root Division's Studio Artists.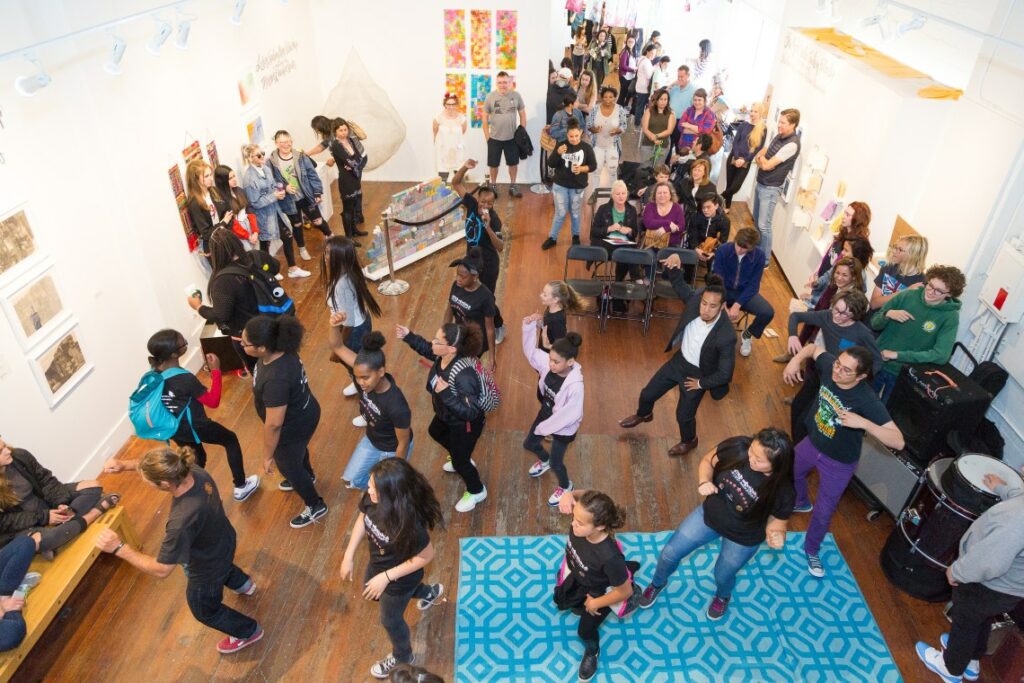 This past weekend "New Growth" opened with a bang at RD. The opening reception was a fantastic event to celebrate the student artwork made as a result of Root Division's Youth Education Program. The afternoon event featured live performances by Youth Art Exchange, San Francisco Rock Project, SF Jazz, Youth Speaks, and Destiny Arts. In addition, visitors participated in a range of art-making activities, including a mobile printmaking station, t-shirt tie-dying and flower crown creating.
In connection to New Growth, Root Division is currently exhibiting the work of four Teaching Artists Fellows in the Frank Ratchye Project Space – Kimberly Acebo Arteche (Blau-Gold Teaching Artist Fellow), Rea Lynn de Guzman (Filipina Teaching Artist Fellow), Sofia Sinibaldi (Latina Teaching Artist Fellow) and Indira Urrutia (Latina Teaching Artist Fellow).
Diverse in their approaches, each of the Teaching Artist Fellows have applied aspects of their teaching practice and areas of interest to their individual studio practice. Collectively, their exhibited work considers how objects and physical materials connect to identity, place and culture.
Throughout the duration of the Blau-Gold Teaching Artist Fellowship, Acebo Arteche has continued to develop The Duster Project. Dusters are 'pambahay' – colorful dresses typically worn around the home. By placing the patterned, multi-color materials on both the ground and wall, Acebo Arteche expresses the ability of the diasporic Filipina to thrive in new environments and their continued resilience. As part of the Blau-Gold Teaching Artist Fellowship, Acebo Arteche was the Resident Teaching Artist at Bessie Carmichael Elementary School, a K-5 school and Filipino Education Center in San Francisco.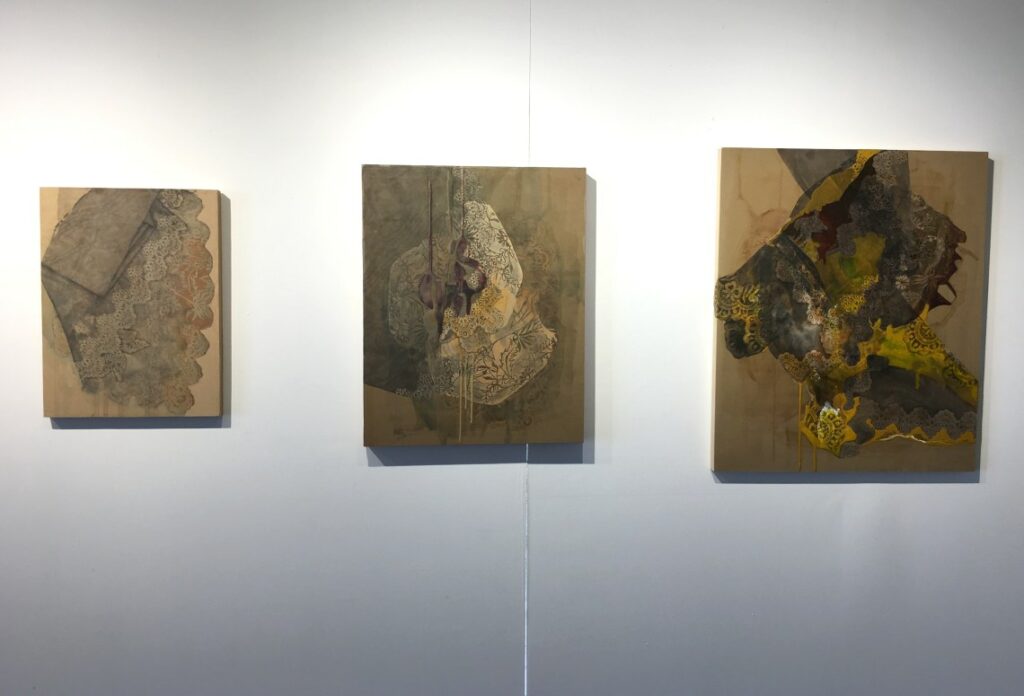 Rea Lynn de Guzman also acted as the Resident Teaching Artist at Bessie Carmichael Elementary as the Filipina Teaching Artist Fellow in a bi-lingual arts curriculum. Within the Frank-Ratchye Project Space, she has installed three panels of varying sizes. In her latest body of work, de Guzman navigates through the colonial history of the pineapple in the Philippines, the native's appropriation of the piña fiber, and its relationship with the idea of "Maria Clara" (a mestiza character from Jose Rizal's novel, Noli me Tangere). Through the process of repetitive layering and using a color palette that evokes skin tones, de Guzman experiments with the tactility of materials through screen printing and image transfer. de Guzman's work challenges the displacement of native ideals by the colonizer, specially in the Philippines.
Directly across from de Guzman's and Acebo Arteche's pieces is new work by the Latina Teaching Artist Fellows, Indira Urrutia and Sofia Sinibaldi. As Resident Teaching Artists at Mission Education Center, both Sinibaldi and Urrutia adapted an existing curriculum and project called My Two Homes, in which students participate in discussions and art-making around their transition to a new home in the U.S.
Over the course of the past year, Urrutia has experimented with various wire knitting techniques. In her new body of work, Everything Starts from the Center, Urrutia has crocheted various pieces of wire to create a large form that is simultaneously structural and seemingly weightless. Tilted "Tapete", the sculpture's form was inspired by the work of Bay Area artist, Ruth Asawa.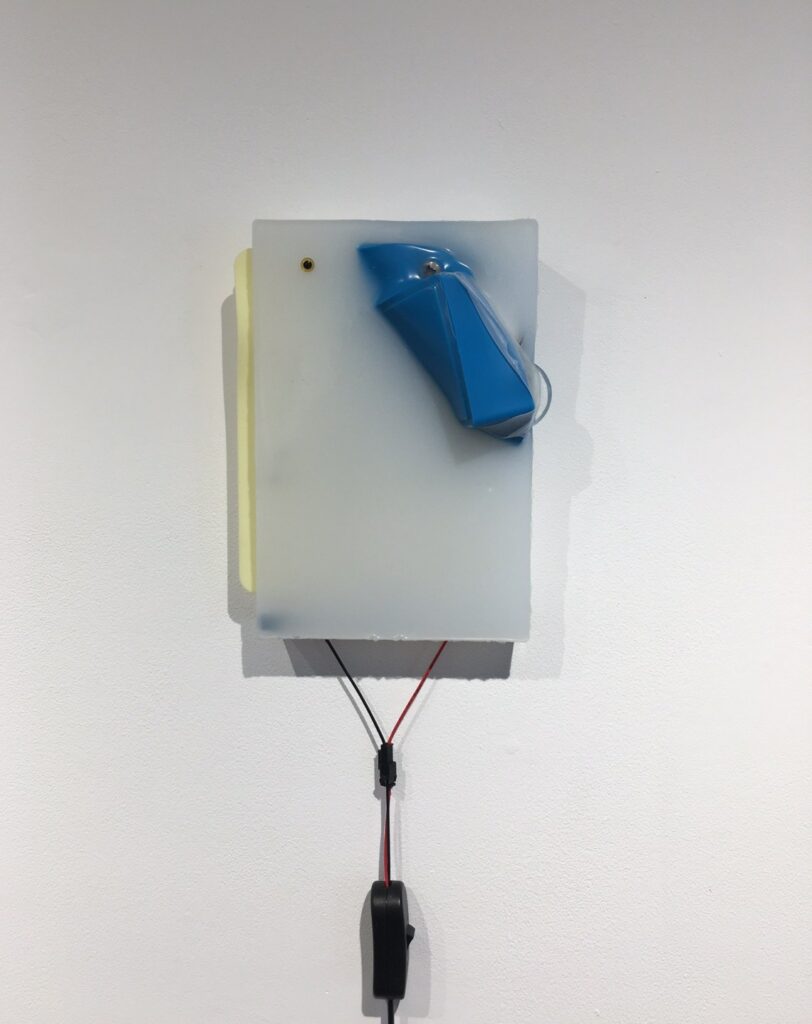 Although contrasting in size to Urrutia's sculpture, Sinibaldi's piece also examines how repurposing materials has the capacity to shift meaning and create new forms. Sinibaldi questions how information is first translated and then traduced into something else. What is the new (mis)information that has been created? Her combination of seemingly disparate objects creates a new morphed form that ultimately become functionless.
As the 2016 -2017 academic year comes to a close, Root Division is currently accepting applications for the next round of Teaching Artist Fellows. In addition to acting as the Resident Teaching Artist at one of Root Division's partners schools, each Teaching Artist Fellow receives a free studio space for 12 months as part of Root Division's Studio Program, in addition to a teaching and artist stipend.
The Blau Gold Teaching Artist Fellowship and Latinx Teaching Artist Fellowship are both fantastic opportunities to work directly with youth in San Francisco, while also developing a studio practice surrounded by a creative community of artists. (Applications are due on Wednesday, June 7th at midnight!)
Looking forward, we have an exciting selection of artists coming up in the summer months ahead at Root Division. The next featured artist in June will be Studio Artist, Leigh Ann Coleman.
Stay tuned for more!
Samantha Reynolds, Exhibitions Fellow