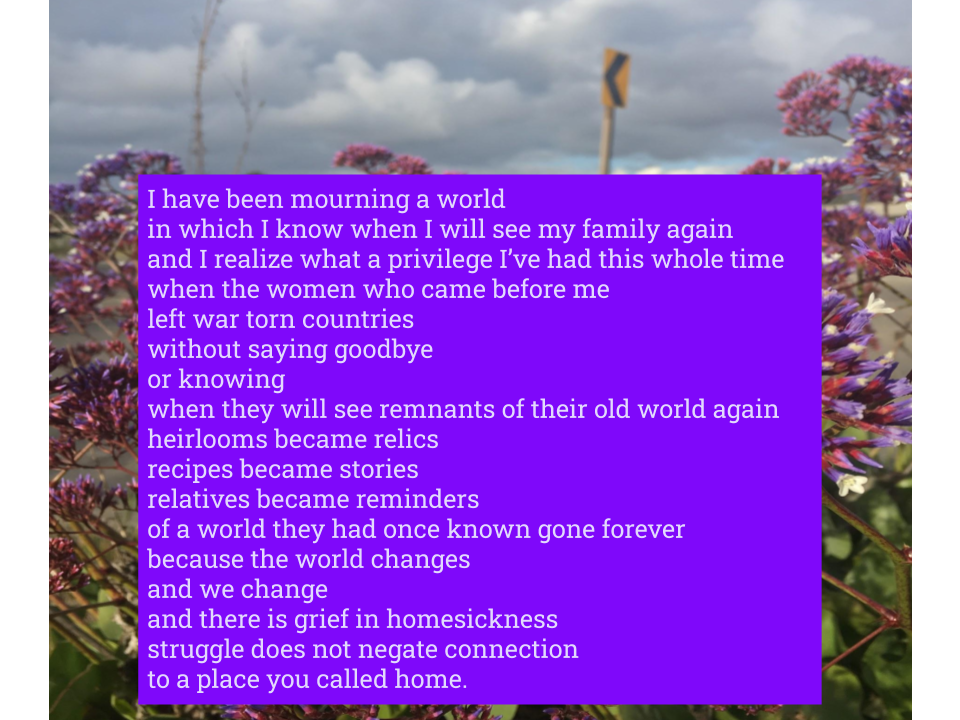 By Alicia McDaniel, Exhibitions Fellow
Danielle Nanni is an artist and educator whose projects are centered around reflection and personal meaning. She creates whimsical visual narratives informed by the lived experiences of her family and herself. Nanni is the Blau-Gold Studio Teaching Fellow and a Studio Artist at Root Division. Her teaching methods and art making practices strive towards creating space for empathy.
Read my full interview with Nanni about her journey to Root Division, her teaching style, and her art making practices.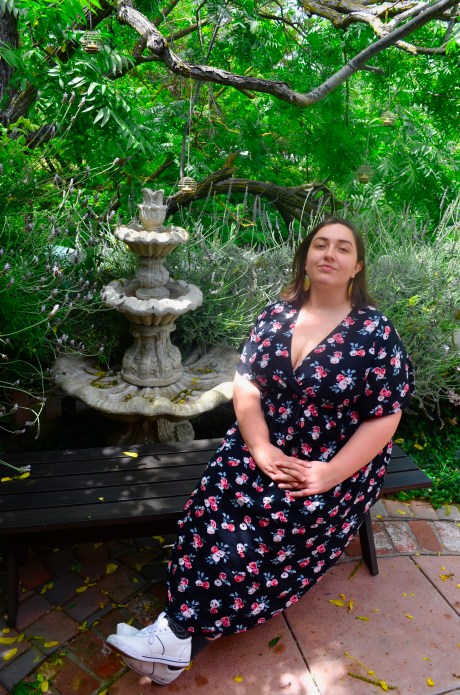 Alicia McDaniel (Exhibitions Fellow): Can you tell me a little bit about yourself and how you came to be the Blau-Gold Studio Teaching Artist Fellow?
Danielle Nanni (Blau-Gold Fellow): I am an art educator, muralist, museum educator, poet, and many other things – from Philadelphia. I was living in Oakland between 2017 and 2018 before I joined Root Division. When I was living in the East Bay, at that time, I was working for the East Bay Community Law Center as a client services advocate. After I graduated in 2017 from Tyler School of Art with a BFA in printmaking, I really wanted to explore avenues of social services and social work. I was always interested in integrating them into art. While at school, I aspired to provide accessible art education in communities that wouldn't be able to otherwise afford opportunities in the arts through a Creative Arts and Research Scholarship Grant. I started working at this law center that provided free legal services to low income residents throughout the Bay Area. It was a really great experience, and though it was great exposure in a line of work I had been interested in, I really missed the art world . Shortly after, I got accepted to the Museum Education Fellowship Program at the Brooklyn Museum. I moved to New York City where I lived for a year, but before I moved to New York from the Bay Area I started seeing someone who is my partner now – Miguel. While I was in New York, Miguel and I were doing long distance. I was having an amazing time with my fellowship, I was learning and growing a lot. I had a great cohort of fellows who continue to inspire me. We were able to learn a lot from each other and I worked alongside amazing educators who were the front runners of their fields.
When this fellowship was coming to a close I began to formulate a plan to move back to the Bay Area so that I could be closer to Miguel. Being a Studio Artist at Root Division was an opportunity that I had seen before when I lived in Oakland [previously before the Brooklyn Museum Fellowship]. Because I was working in a different field at the time and I wasn't making a lot of money, I wasn't thinking about committing myself fully to an artistic practice. It wasn't accessible to me at the time. After spending a year working at a museum, of course, I felt super re-inspired to get back into my own artistic practice. In between the Brooklyn Museum and the Bay Area I also did an internship with Philadelphia Mural Arts. I was painting murals all throughout my home city which was amazing. I had all this momentum coming back to the Bay Area so, I applied to Root Division hoping this would be a great way for me to get back into it. After a phone interview with Michelle, Samantha, and Lindsay, I flew out to California a few weeks later and met with the team who offered me the fellowship. It was a whirlwind moving back to the Bay Area with nothing – hardly any money saved up and no possessions – just a suitcase full of clothes. I started my life again out here from scratch. I was seeking out opportunities in the arts that would also allow me to focus on my studio practice, and Root Division presented an accessible opportunity. It was a perfect fit.
AM: In your artist statement you mention a few ideas, such as critical thinking and community, that are central to your teaching practice. Can you speak to how empathy informs your methods in the classroom?
DN: Yes, especially if we are talking about an art class. I think art is so personal because whether or not you like it, a lot of the art you make is semi-autobiographical and is an expression of who you are. No one can make the same expression you are making. A useful concept I learned working for the Brooklyn Museum is that art can really be used as a tool for empathy – to connect everyone and to have a more interconnected world. I think that looking closely at art; how you look at an object in a museum, in addition to the art making process, are both such good tools for developing empathy and in trying to understand someone's perspective by trying to read their expression.
This expression is visual, so I believe that developing visual literacy and becoming investigators who are looking at works of art is crucial in seeing where that artwork is coming from – what it is saying, and how it expresses that person. Especially working with children, little ones, you know? When I am working with really young students, I love to have them look at each other's artwork and look at other examples of artwork as a way of building this visual literacy and also encouraging them to see the creative side of someone that normally isn't always valued or highlighted, especially in school environments.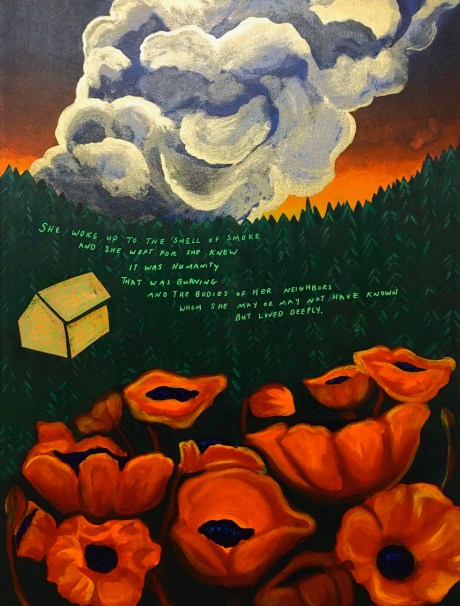 AM: I understand that your work is autobiographical – speaking to you and your family's lived experiences. Is there a specific narrative that you always return to in your work?
DN: I come from a family of immigrants and so I think that the story of coming to this country has always deeply influenced my work and how I understand my role in this country, how I'm always challenging myself to think about Nationhood and what ideals this country represents and the problems we inherit when arriving here. I think a lot about our Nation's politics especially in relationship to the parts of the world in which both of my parents came from. I think a lot about the injustices in this country, and how if we behave as bystanders, we are implicit in the state of violence of this nation unless we speak up. There is a responsibility – a call to action to address these social issues that we are experiencing in this country – especially surrounding race, white supremacy and Capitalism.
AM: Does your teaching experience inform your art making practice or vice versa?
DN: Teaching definitely informs my art making practice and vice versa. That is why I love being an educator and whenever I talk about being an educator I often tell people the two reasons why I am in education. One, I get to be a lifelong learner – which is amazing. Two, I get to form really meaningful relationships whether it's with colleagues or my students. I always think about this in my art making practice as well. Connecting with people, both learning and sharing stories. Those two are really connected for me.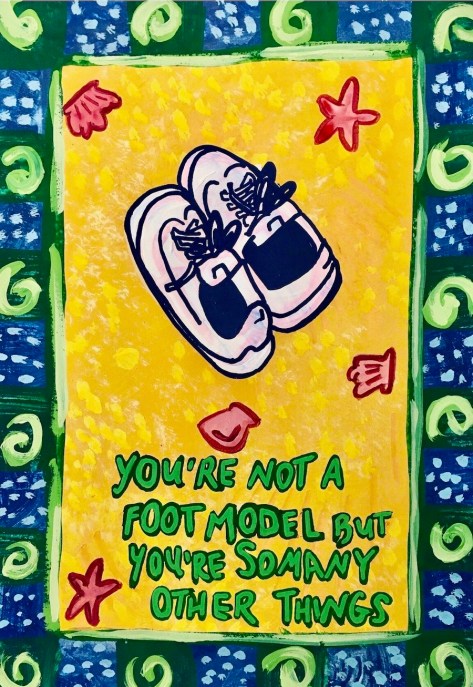 AM: Is there a specific body of work that you are currently working on?
DN: I have been working on this body of work for a little while now – a group of paintings having a surrealist, whimsical landscape and embedded within these scenes are narratives in the form of different poems. Poetry is something that I used to do, especially as a teenager, and for years it was really difficult to express myself through writing because of some trauma I had experienced. I have started this really long healing process that has allowed me to express myself in this way again and the poems really help me to reflect on a lot. They reflect on my family history, how I carry that history with me, and how it has influenced my education, teaching practice and politics. A lot of this is reflected in my own work, thinking about these events as history, but through a contemporary lens.
What does it mean to have so many stories that deal with hardship, suffering and how does that inform the decisions I make as a citizen here – as someone who has had more opportunities here than my parents or anyone in my family? I was born and raised here, and I have so many more advantages because of everything that everyone before me has worked for – done for their children and ultimately for me. A lot of the artwork that I am doing right now is reflecting on these stories, reflecting on pieces of wisdom, putting these into a physical place filled with symbols from memories. Reflecting on the past helps me heal and look towards the future. And we are in a time where we need to fight for a better future now more than ever. These works also reference images from children's books as I want to continue this element of playfulness and whimsy. My work is autobiographical. While not everyone creates this way I believe that there is always some degree of yourself in your work because you have a unique set of skills and experiences that inform everything that you do.
ABOUT THE BLAU-GOLD TEACHING ARTIST FELLOWSHIP:
The Blau-Gold Studio Teaching Fellowship provides free studio workspace to a teaching artist in exchange for being an integral part of Root Division's Studios Program. In large part, the commitment involves teaching classes one to two afternoons per week at one of our Youth Education partner program sites. Working as a teaching-artist in residence for the full school year, the BGSTF plans a curriculum and develops a series of accessible, relevant, and fun projects for the students at a local school site.