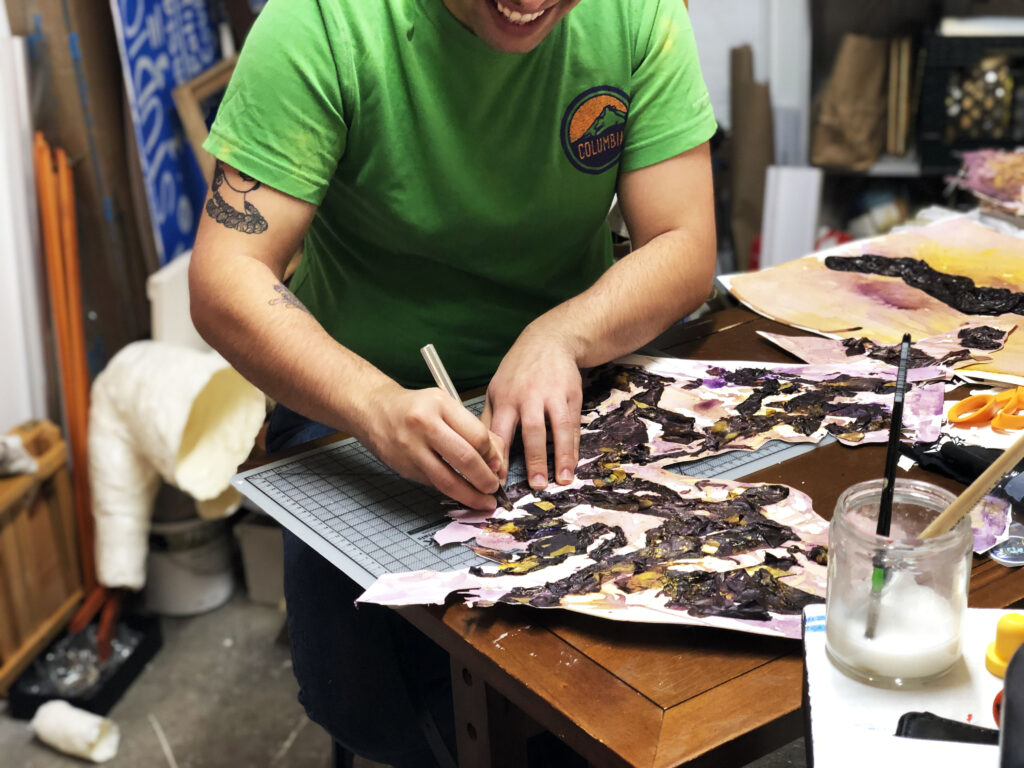 By Alicia McDaniel, Exhibitions Fellow
I was walking the basement hallways of Root Division when I heard a voice enthusiastically exclaim, "Hi, Alicia! Would you like to see my studio?" This impromptu studio visit was very evocative of Studio Artist Nick Maltagliati's creative practice. The interdisciplinary artist works within the realms of painting, textiles, and installation to express personal narrative with impressive spontaneity. Maltagliati's studio was adorned, floor to ceiling, with vibrant, colorful paintings of mountains, canyons, his desk space covered with found materials such as dish ware, wine corks, restaurant server notepads, and an assortment of texts embellish the empty spaces in between. I found myself within an overwhelming state of admiration of the complexity of Maltagaliati's work visually and conceptually.
For the month of December, Root Division will be showcasing Maltagliati's recent ambitious body of work in our Frank Ratchye Project space. As a food server the artist's show In the Weeds is an environment that seeks to illustrate a surrealistic, vague assertion of his ambivalent feelings towards serving in a restaurant. The title of the show is referential to the expression of the same name where a server is overwhelmed with the chaos and extraneous amount of demands. This show in as an immersive experience that allows Maltagliati to reflect upon the service industry's internal drama and microaggressions.
Read more about the artist's practice, background, and installation in our interview below.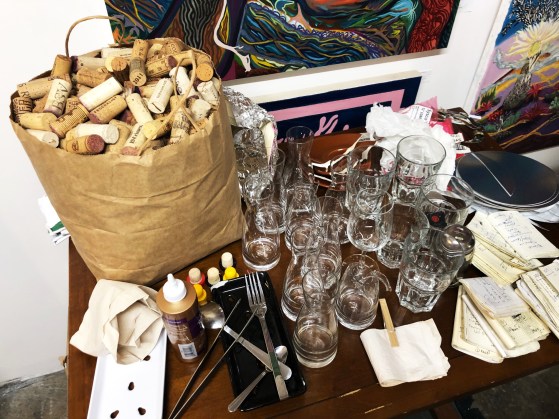 Alicia McDaniel (Exhibitions Fellow): You have a highly ambitious creative practice. I admire the spontaneity within your process, have you always worked within this way?
Nick Maltagliati (Studio Artist): Most definitely. I believe spontaneity is important because it helps with my quick to boredom. It is easy for me to move from one unfinished project to the next. That being said, I maintained steady focus while working on this particular project and transformed the spontaneity into my work. Even though I was creating multiple small projects, it was all for the installation-based result.
AM: In the Weeds is a highly immersive installation which has transformed the FR space entirely. Was there a dramatic or gradual shift from the canvas within your work?
NM: My process for this project has been gradual. I have worked in installation before and I wanted to revisit that channel. There were some early works like A Petal For Every Time A Customer Asked For My Recommendation and End Of A Roll which created aesthetic benchmarks for the show. Beyond the canvas, I have work that explores space and height (via hanging by string, thread, etc.). While putting in the time I had several growth spurts which accelerated the process. I reveled in experimentation with new techniques and I feel proud of that.
AM: Where did you collect your found materials for this installation? What usually determines your selection?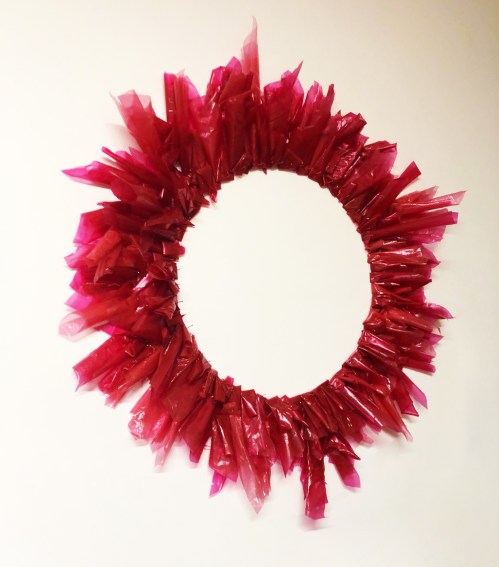 NM: I collected ticket paper, aprons, and food stickers from my first dining job, I got a handful of supplies from a French cafe job, and most of the materials are from my current job. I infused the found media with elements from within my studio, and at times the hardware store. My selection has been determined with materials that come in large amounts like corks, pink plastic wrap, receipt roll tubes that all involve a waste. I am a proponent to the Arte Povera movement in the 1960's the aesthetic of using cheap, found media and calling it art. I am also intrigued with paper: notes on paper from the back of house, servers' order notes, and memos from guests left behind. The more history a piece of paper has the more I want to activate it.
AM: Your work within this show has been heavily influenced by both reality and fiction. What personal experiences have inspired your recent pieces?
NM: There have been quite a few moments that inspired the work. The overall sentiment of the piece Kitchen Nightmare Catcher is about the intense dreams I have from working my first fine dining job. Being a food runner, there was a lot of high tension and I had to deal with heavy pressure from time related deadlines. The heated episodes turned into micro emotional scars that spark my dreams into existence. There have been more recent moments that I have collected and documented into In The Weeds.
The piece: Cerebrally Out Of Context titularly conveys a profile of a brain comprised of black receipt roll tubes and some attached receipt paper. On the paper, I wrote out quotes from staff meetings, coworkers, and even myself, all out of context. Having these small quotes and phrases outside of their original place in reality subverts their significance and thus plays on surrealistic format of the show. Other works are based on the repetition of giving my recommendation to diners or breaking the ice with tables with a selection of introductions spelled out in corks.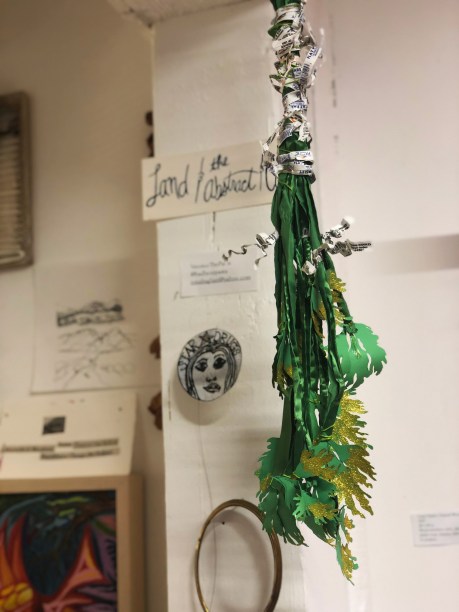 AM: How does fantasy and imagination inform the work?
NM: Imagination is a major component to my practice. I can visualize projects easily albeit ideas can be flighty. I get lost in my own reality frequently and my inner mind is my true fantasy. With time, I work on intertwining the fantasy to the idea resulting in a final concrete piece. So, to answer the question, fantasy and imagination informs my practice with a range of color, abstraction, layers, playful extractions, cuttings, and infused energy. In life, I have a grown to accept the fact that I have a certain charisma which I in turn like to exude through my work.
AM: A compelling feature of your work is how personal and relatable it is conceptually —especially for anyone who has worked in customer service jobs. Can you elaborate on this notion of code switching as a server?
NM: There are multiple layers of "self" while being a server and each layer determines its own specific code. I have my true self away from work, I have my "employee" self (who I am with coworkers or in work without customers), and finally I have my "server" self. From my "server" self I choose a route of how to break the ice, continue interaction, and departing phrases to guests. The depths of how coded I am at time concerns me and can flare up existential crises. There are moments of personal disparity that I have tried to infuse into some of my pieces.
AM: I understand that you have been at Root Division for almost two years, how did you first get involved at RD?
NM: Yes, I have been a studio artist at Root Division for a year and almost eight months. I was also the Exhibitions Intern from August 2016 to May 2017 (an extended internship). As part of the Exhibition Design class at San Francisco State University, we took a tour of several working galleries in the downtown area which included RD. I was immediately impressed and enjoyed the energy of the space and how it activated the community with art engagement. My soul and practice has reaped the benefits from this amazing organization as I have given back just as equally.
AM: How has your work changed within your time being a RD Studio Artist?
NM: My work has expanded in size and concept since being at RD. I am able to continue working with oil painting (instead of working from my apartment) and I get to explore with new materials and techniques. Working larger has of course been a direct result as well. My work has thus become more polished, developed, and conceptually personal. I am proud that have had major breakthroughs and moments of learning and growing from being at RD.
The artist community is also indicative of progression of my work. Since moving in, I have been actively organizing studio visits within the RD network. It allows us to get to know one another and our practice outside of our monthly meetings. These visits are one hour before our meeting time and allows for camaraderie to build. Artists sign up for a 15 minute slot and ask for critiques, discussion of ideas for future work, and ask questions on how to make a piece more successful, etc. It is an informal way to get feedback from other like minded individuals. Studio visits have helped me be more confident with what I am creating.
AM: Do you have any other upcoming shows or projects that you would like mentioned?
NM: I am happy to announce a new piece I am creating for the Inaugural RD Makes Studio Artist Exhibition, same night as the opening reception of In The Weeds. This piece has been a long term project involving a found safety cone and lots of sequins.