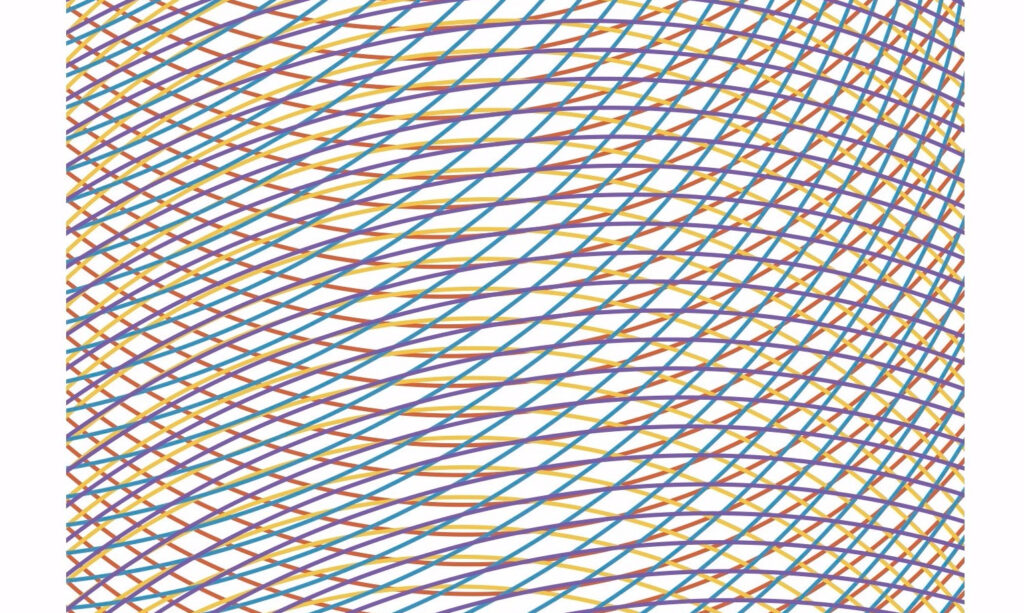 In 2002, Root Division was formed by three recent San Francisco Art Institute graduates. 15 years later, we continue to serve artists living and working in San Francisco by providing exhibition opportunities, below-market studio rates and income-generating professional development. It is an exciting moment to reflect on the development of the organization, especially as we enter into the third year of a new building on Mission Street with 22 studio spaces and 29 artists working on site.
In connection to the 15-Year Anniversary Exhibition and in collaboration with Electric Works, Root Division has created a limited-edition box set of prints featuring 15 works by Root Division Studio Alumni. Each individual print is framed and on view in the Frank-Ratchye Project Space throughout the duration of the exhibition, which opens on Saturday, January 13th at 7:00pm.
One of the featured prints is by current studio artist, Nicholas Price. Price was originally a Studio Artist at Root Division from 2012 – 2014. He was then asked back in 2016 to pilot the Alumni Studio Artist Program. Price continues to be a key figure in Root Division's community – assisting with exhibition installation, adult education, and event production support. Outside of his artistic practice, Price is the Master Printer at Magnolia Editions in Oakland, CA. Current Exhibitions Fellow, Samantha Reynolds met with Price to learn more about the various printmaking techniques, as well as his individual artist practice.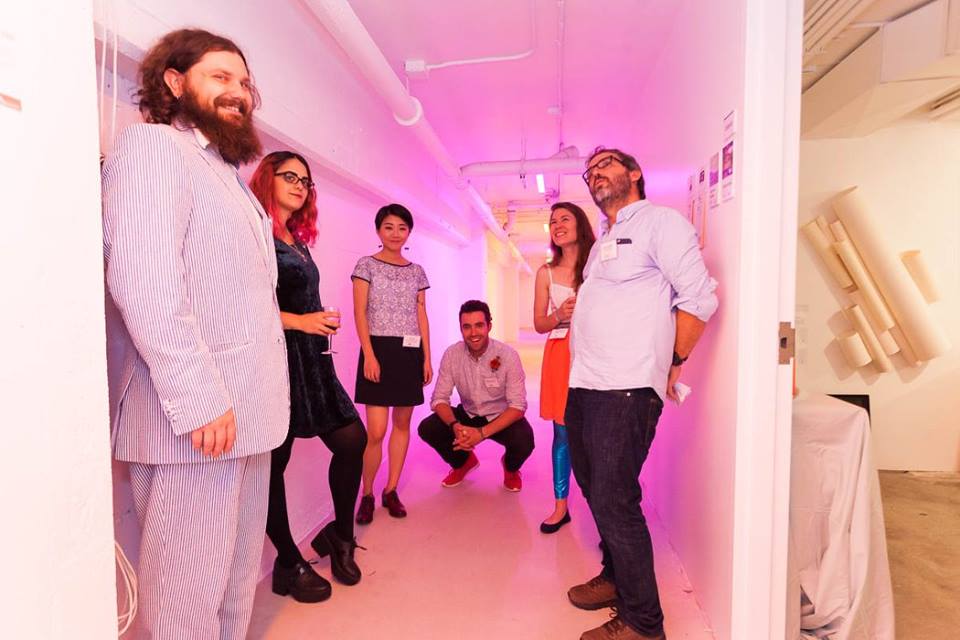 Samantha Reynolds: You have been a part of the Root Division community for almost six years. During this time, how have you seen the organization develop? What is the role it has played in your development as a professional artist?
Nicholas Price: My time at Root Division began shortly after I finished my MFA at SFAI. Root Division has been an excellent way to maintain and expand my community and life in the arts. Throughout my involvement, I have developed many lasting friendships and have been given exhibition opportunities that I would have otherwise not received. I have also seen the Root Division community continue to expand.
Over the course of the last six years, I have participated in the transition from the space on 17th Street in the Mission to the temporary space on Market Street and now in the current space on Mission Street in Soma. As these transitions have happened, I have seen the core of RD's mission remain the same, but the reach continue to grow. This growth has not only come from the new artists that are always being added to the RD community, but also through the opportunities that are created by this always increasing community.
SR: As an artist, your studio practice expands and deconstructs traditional print media. What are a couple of the overarching techniques present throughout your practice? As a printmaker, has exploring optical illusions and concepts of space been something continually of interest for you?
NP: My work focuses on how things are made. I am constantly thinking about how prints are made – as both as an individual printmaker and as a Master Printer at Magnolia Editions. My recent body of work has come about from thinking about how an artwork can make the viewer aware of how they are viewing artwork.
One of the ways I try to make the viewer aware of their own location is through creating works that change based on where the viewer is positioned in relationship to the work. Depending on the distance and/or viewing angles, lines can shift and patterns can emerge. This mode of thinking often takes print techniques and expands them into three-dimensional space.
SR: I'm glad you brought up this transition into three-dimensional space. In August 2016, you created a site-specific installation in the Frank-Ratchye Project Space. Extending perpendicularly from the wall was a series of three-foot square panels that were each printed with concentric circles of cyan, magenta and yellow and hung from the ceiling. Was this body of work a departure for you?
NP: To me, it was more an expansion on the ideas from earlier pieces in this body of work. The work I made for the Frank-Ratchye Project Space was the first three-dimensional artwork I had made for this series. However, it does share qualities with work I have made in the past that explore shifting qualities. For both, I utilized either the shadow or reflection of the printed pattern to create interference with itself. This technique creates a moiré pattern that shifts based on the viewer's location.
SR: For the 15-Year Anniversary box set, the letterpress print you produced seems to have a strong connection to this installation. Do you see these two works as part of a cohesive body of work?
NP: I do see these two works as related. The print included in the 15-Year Anniversary box set came out of the process of creating the work for the Frank Ratchye project space. While it flattens out the installation aspect, it retains the relationship of the viewer to the piece changing the way the Moiré patterns are seen. There are certain patterns present that are easier or more difficult to see based on the viewers relationship in space to the artwork.
SR: Your printing expertise has been hugely helpful to develop our first box set of prints. Can you describe the three types of print process that are present in the box: letterpress, silkscreen and archival pigment prints?
NP: All three of the processes used in this portfolio are commonly created using digital files as part of the creation of the artworks; and all three end up with different characters based on how they were made.
Screen printing is a process where the image is put on to a piece of silk using a photo emulsion. Once the emulsion is hardened by light, ink passes through the silk where the image is and not through where the emulsion stopps the ink. Because the ink from the printing process sits on top of the paper without pressure being used to print, it results in the ink being slightly raised from the paper.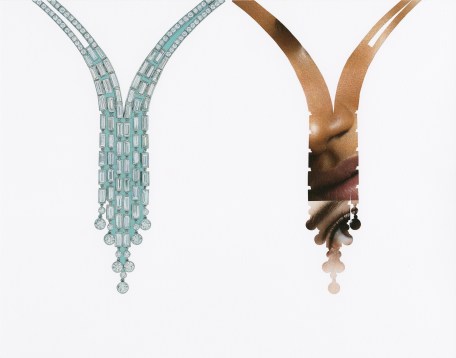 Archival Pigment printing is similar to the inkjet printers many people have on their desks at home, but with more colors of ink in the printing process. This allows for a wider gamut of colors to print than most home versions and with smoother gradients.
Letterpress printing also uses a photo emulsion to create the image. The photo emulsion is exposed to light and hardens. The areas with images are then inked using a roller from the letterpress and that ink is transferred to paper. The letterpress print has a slight emboss in the paper which results from this process.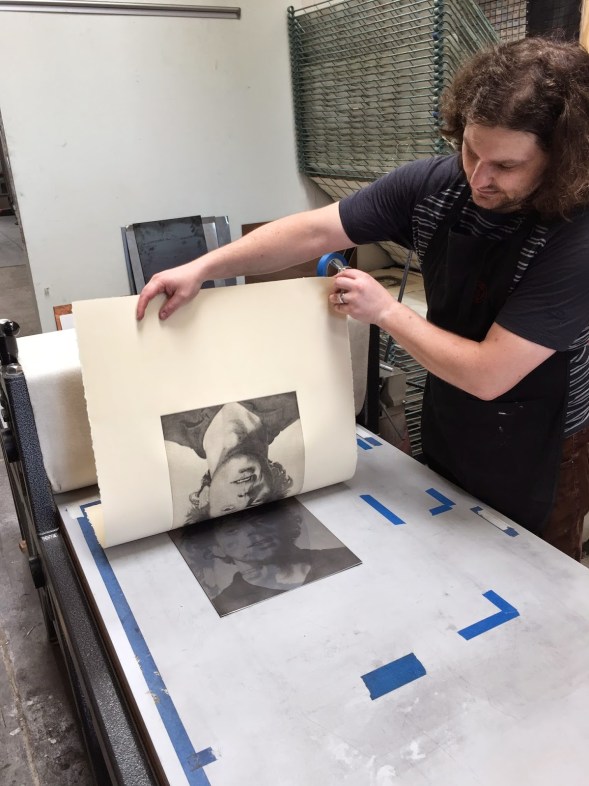 SR: Thank you for that breakdown! Your own print specifically has a physicality that makes each line bounce off one another and seem slightly elevated from the page. Can you walk us through the process the creation of your own print? Does it include both your hand and a digital process?
NP: Many of my prints do include an aspect of a drawing process or my printing by hand, but this particular body of work is mostly accomplished using the computer to draw the artwork.
My print included in the 15-Year Anniversary portfolio was originally drawn on the computer and then Western Editions created the photopolymer plates from those digital files. Western Editions mixed the four different colors; one for each plate and printed them on top of one another. This results in the emboss that is part of the physicality that you mentioned. This was my intention from the beginning process when I drew the image on my computer.
SR: This project has illuminated how each type of printing requires a specific skill-set and tools. For this set specifically, we worked with Electric Works, Forthrite Printing and Western Editions. Is this common for a project this scale? Were new connections between Bay Area printers formed?
NP: I don't believe it is very common to have different types of printing in a portfolio like this, but it is great to be able to collaborate with other printers on work. This is first time I have worked with Electric Works on a project as well as the first time I have worked with Western Editions. This print was a great excuse for me to get to know the people at both Electric Works and Western Editions better.
SR: As a Master Printer, what do you believe are the value of box set prints? And the value of artists who typically don't work primarily in print media to create limited edition prints?
NP: Portfolios of prints can serve different purposes, but one of the wonderful things that it can do is create an exhibition in a box. The portfolio shows a community of artists, many of whom may not know each other because it spans the 15 years of RD's existence, that are connected through this community.
In addition to the performances and exhibition to celebrate RD's 15 years, this portfolio is a great way to emphasize these connections. And unlike the exhibition and performances, the portfolio with remain together as a set of artworks that expresses that community.
About Nicholas Price:
Nicholas Price received an MFA in Printmaking at the San Francisco Art Institute in 2011. He is a current Studio Artist at Root Division, and is one of the organization's first recipients of the Alumni Artist Studio award. Price's first residency at Root Division was from 2012-2014. As part of his commitment to the organization, Price assists with exhibition installation, and event production, and has taught silkscreen and printmaking classes as part of Root Division's Adult Education Program.