Anh Bui joined Root Division in February 2018. Since then, he has become an active member of the Studios Program; Bui serves as the current Studio Artist Representative on Root Division's Curatorial Committee, helps coordinate monthly studio visits with fellow Studio Artists, as well as volunteers for each 2nd Saturday event. In his own artistic practice, Bui confronts his complex identity as an immigrant from Vietnam living in the US. His work depicts this internal struggle to feel truly at home in one place by grappling with the misrepresentation of his own body in public space.
For his installation in the Frank Ratchye Project Space, Bui combines painting and sculpture to depict a hybrid notion of the self that is both fluid and free from society's stereotypes and constructs.
Bui sat down with Samantha Reynolds (Art Programs Manager) to discuss the installation, as well as his current, evolving body of work.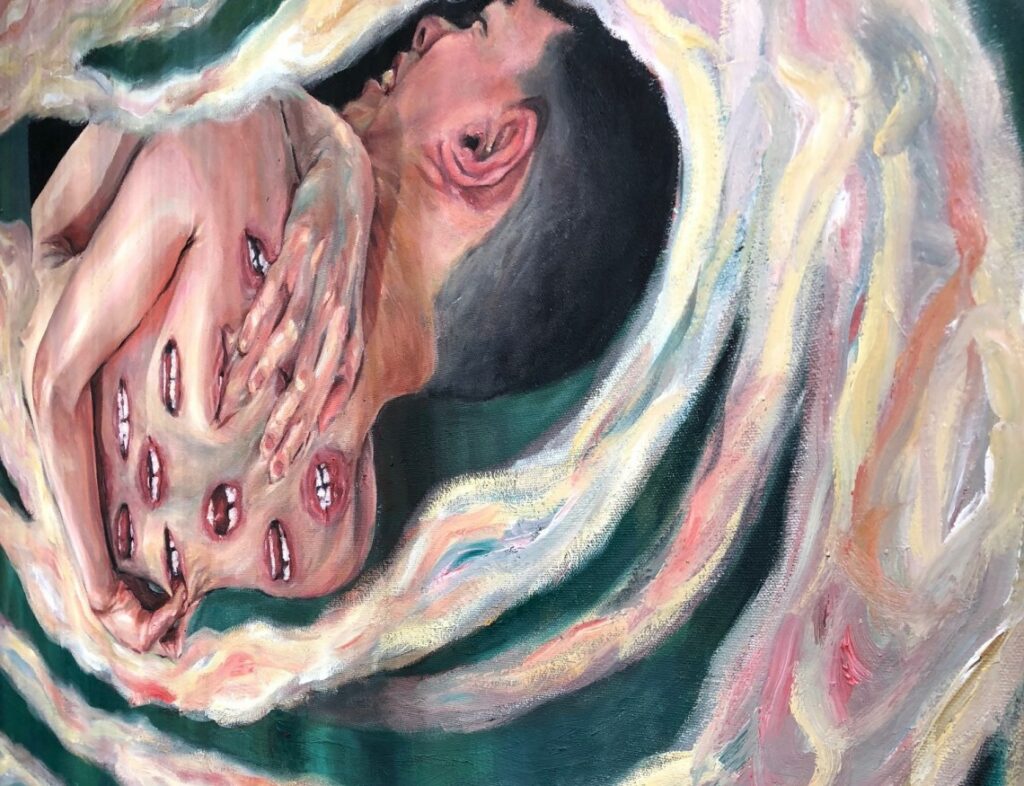 Samantha Reynolds (SR): During our studio visit, you discussed the inability to feel truly at home in one space in both San Francisco and Vietnam. How is this feeling – both physical and emotional – of an in-between state reflected and manifested in your artwork?
Anh Bui (AB): My works express the conflicting emotions of being in between space, such as the desire to reconnect to your past versus the desire to assimilate. I try to express these conflicts through ambiguous representations of my body. In the painting series, titled "What We Find in the Placeless" for example, facial expressions can be interpreted as agonizing or smiling; bodies can be interpreted as dying or as a vessel for new growth; an embrace can be interpreted as one of somber or happy acceptance.
SR: Your paintings are deeply intimate portraits of your own body that have been manipulated (or duplicated). For instance, in the current work on display your two selves embrace in a loving, safe embrace. Why did you move forward with this selection of gestures?
AB: In "What We Find in the Placeless," elements of body horror serve as metaphors for racial and migration wounds, while Space provide me with a moment to reconcile with these wounds outside of our social constructs, expectations, and desires. It's impossible for anyone to truly know how they may reconcile with themselves, because it's impossible to escape the current social reality. Instead, I imagined multiple possibilities of how I may reconcile. I posed my bodies in gestures which represent my state of mind and emotions in these different possibilities.
For me, the body is both a site of external and internal racial violence, and a shell to hide my feelings in such violence. I wanted to reverse that relationship in my art and have my body be the place of expression.
SR: In addition to the emphasis on the physical body, you place your figures in celestial, otherworldly realms. Are you creating a new environment? A new alternative reality to our current one?
AB: These paintings take place in undefined areas of the cosmos. Outer space in general is just such a mysterious and untouched setting. It's outside of systematic control, and in many ways a direct contradiction of our society. Space is also between the here and there, the past and future, and alternative realities. All of these reasons make the cosmos a perfect setting for me to physically reconcile with my past, my multiple selves, and create surreal but immersive environments from my imagination.
The infinite-ness of the cosmos also resonates with me in that you can't really put a definition to its existence, just like you can't fully define one's identity. In my paintings, my bodies are always connected to celestial bodies in some way, representing my desire to be undefined, complex, and infinite.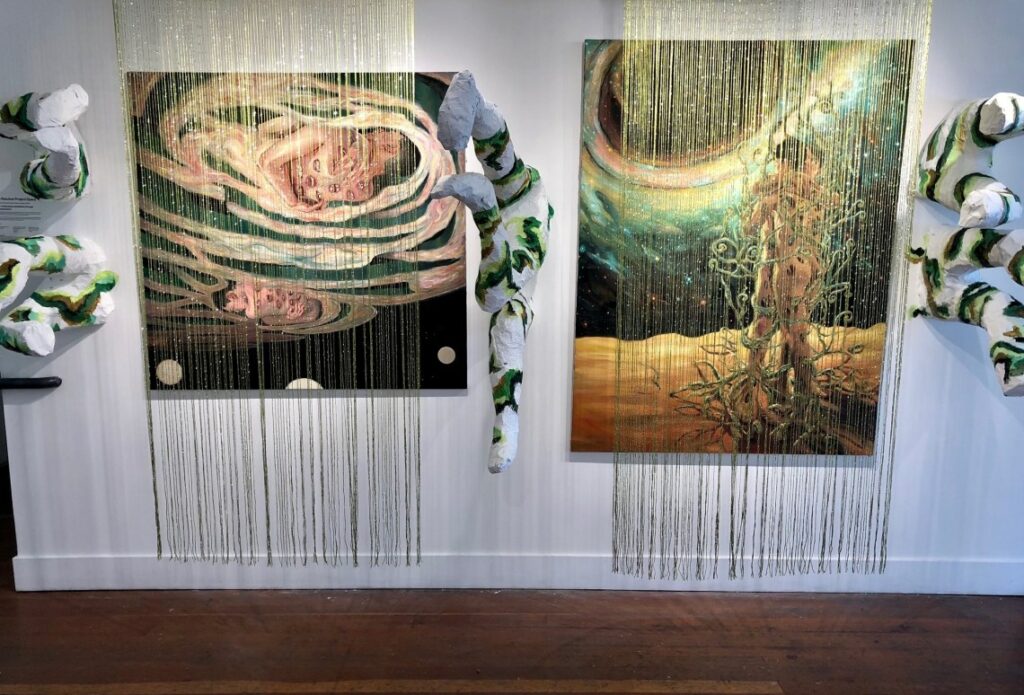 SR: Can you speak more to your experience as an immigrant who has lived between borders?
AB: My personality changed radically when I came to San Francisco during middle school. I spoke much less because I was ridiculed for my accent and English skills. I became more socially anxious from an acute awareness of my "otherness" in term of cultural beliefs and physical features in approximation to the dominant White culture, which were perpetuated in media, museums, and other spaces.
SR: How did these pressures of assimilation affect you? Then and now?
AB: Assimilation, code-switching, and keeping my opinions shut, were unconscious mechanisms which helped me blend in with Whiteness. They provided me with safety, but also made me internalize harmful beliefs about myself. Often, my art practice helps me unravel internalized self-hate.
That said, I don't have a desire to maintain a typical Vietnamese identity. As someone who has lived each halves of his life in each countries, I don't fit in with the constructed definition of "Vietnamese" in Vietnam or America. Instead, I desire a fluid and hybrid notion of self outside of these definitions.
I also worry a lot about playing into the common desire within the White cultural spheres for people of color (POC) to perform an essentialized version of their racial/ethnic/national background, or to express specific racial traumas that are popular in White consciousness for White consumptions. These essentializations limit cultural power and economic opportunities and in turn, the autonomy of cultural producers like myself. My goal is to challenge and complicate these essentialized notions of identity while I examine how these notions are systematically perpetuated.
SR: Your work directly inserts the body as a person of color in space. Is this an attempt to create this sense of belonging and place in addition to challenging the essentialized notions of identity?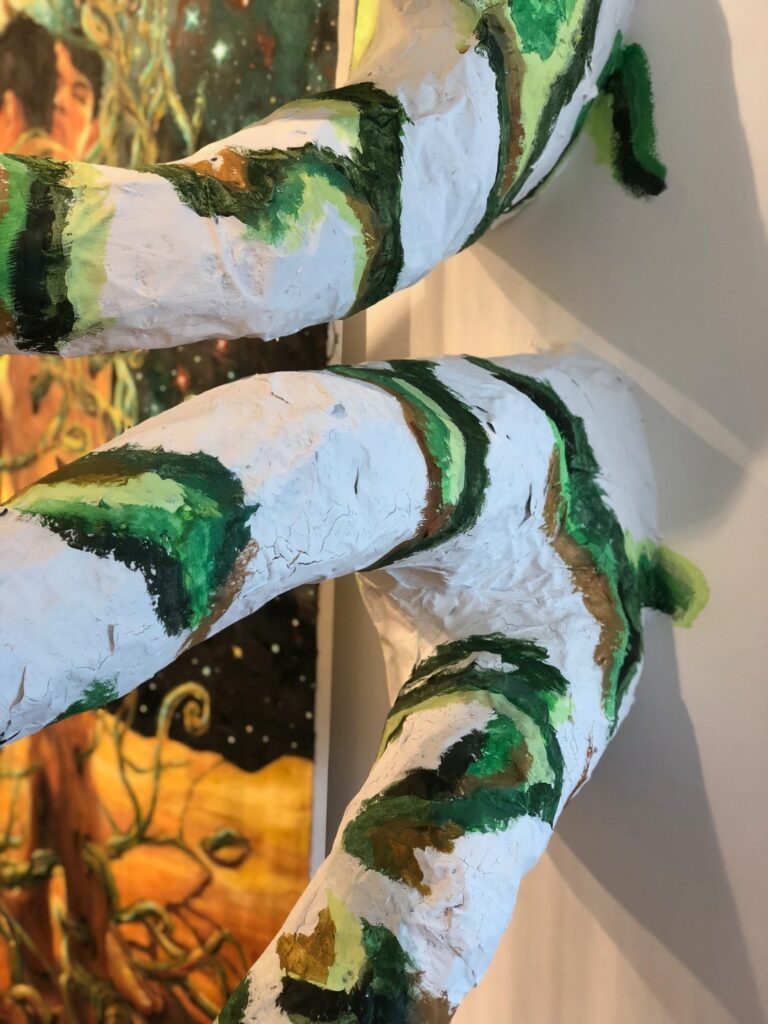 AB: In my work, being a body of color in space is either limiting (i.e the pressure to assimilate within a White-dominated space) or limitless (i.e the freedom of being in outer space where constructs of identity cease to exist).
Through this dichotomy, I want to express the failure of current institutions to provide a cultural and economical support for marginalized voices to exist, leading to our desire to find a space of our own.
SR: The sculptural aspects of your installation are a contrast to your paintings but similarly insert your own body into physical space. What was your process for these two works?
AB: Yes, "Visible In Green" is an installation of white casts of my legs that are blended in with the white gallery wall and then painted with green camouflage patterns. The camouflage colors were selected from a Google search for "Vietnam", which resulted in mostly idyllic natural tourist sites and farmland photos, despite Vietnam's modernization. The installation connects racist and white-centric imaginaries of Vietnam in American pop-culture with how POC must perform these imaginaries within cultural institutions to be noticed, and how a capitalism perpetuates the desire for such performances.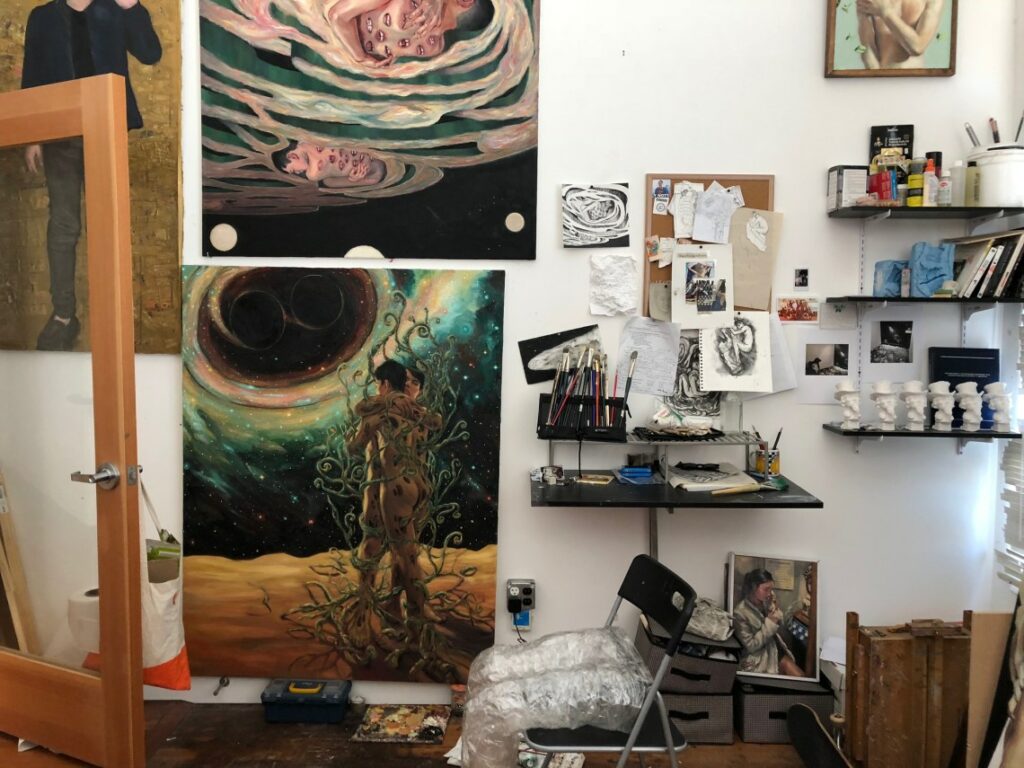 SR: Outside of your artistic practice, you maintain an active curatorial practice and are currently the Curator-in-Residence at SoMArtsMA Arts. Do these two creative ways of working inform one another? Or operate separately?
AB: Much of the theoretical research I did for my curatorial practice informs how I think about my art practice, and vice versa; seeing art practices and conceptual frameworks of artists in exhibitions also gives me new perspectives on my own work. However, my art practice is ultimately very personal, while the goal of my curatorial practices is to facilitate dialogs and create spaces for communities at large.
SR: Has your artistic practice evolved since being at Root Division? Do you plan to continue this series of paintings and related installations? Any performances on the horizon?
AB: The studio at Root Division has given me a much needed space to focus on large format paintings and installations. The critique and conversations with fellow artists and staff has also helped me understand more about my work. Currently, I am working on some short comic book stories using the visuals of my paintings. Some performances may also be at the horizon, but I am still thinking about their conceptual framework.