Bay Area Black Artist Studio Fellowship
Application Deadline: EXTENDED to Sunday, May 15, 2022
Root Division is currently seeking applicants for the 2022-23 Bay Area Black Artist Studio Fellowship. Application process includes submitting completed Fellowship Application Form and required materials. Finalists must be available between June 1–15, 2022 for interviews.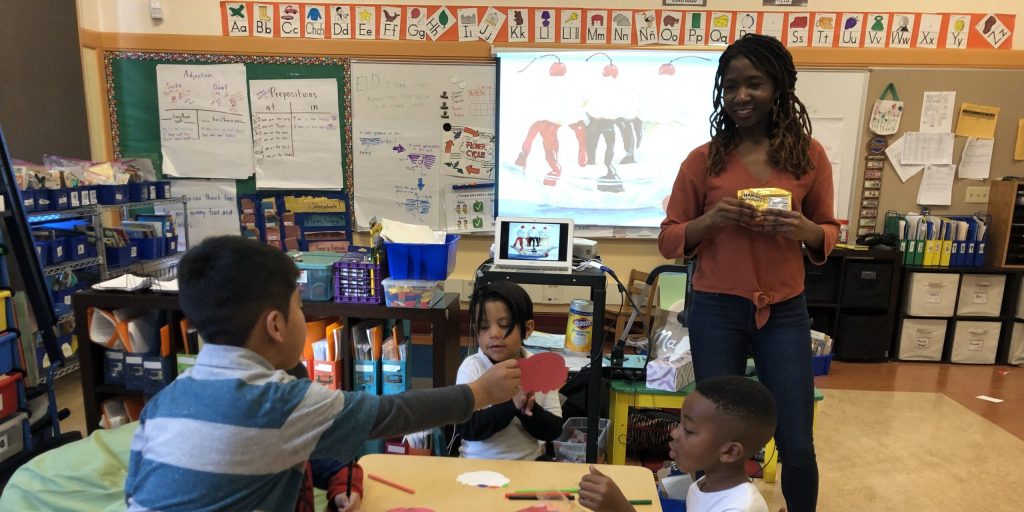 ABOUT THE Bay Area Black Artist STUDIO FELLOWSHIP
In its third year, the Bay Area Black Artist Studio Fellowship provides free studio workspace and a monetary stipend to an emerging artist in exchange for being an integral part of Root Division's Studios Program. In large part, the commitment involves a project that aligns and enhances Root Division's mission to empower artists, foster community service, inspire youth, and enrich the Bay Area through engagement in the visual arts. Service projects should be based in one or more of Root Division's key programs — Youth Education, Adult Education, and/or Exhibitions & Events. Our hope is to provide the fellow with space, resources, and our network so that the Fellow can share their creativity, experience, and service to the community through the organization.
Possible Projects could be to:
Develop curriculum and teach free art classes to youth (See program info)
Design and instruct classes and workshops for adults (View current offerings/ format)
Curate and produce an exhibition and/ or public programming (Explore past projects)
Develop and share social justice frameworks for artists, educators, and/or youth
Develop media project(s) that compile and share community stories
Another community-focused creative endeavor
In exchange for this Project and program involvement, the artist will receive:
Free studio work space for 12 months in our Studios Program facility located at 1131 Mission Street, SF.
Fellowship Stipend of $5,000 (Payment schedule based on quarterly project milestones)
Access to a network of peers and resources for creative and professional development, including staff support and working with a co-selected mentor in the field.
Opportunity to exhibit in our Studio Artist Project Space Gallery.
Among the features of our space:
24-hour access (WORK ONLY / NOT LIVE-IN).
Free Wi-Fi.
Shared lounge, kitchen, bathrooms, & utility sinks.
Shared woodshop and tools.
Access to shared Digital Lab.
QUALIFICATIONS
Strong candidates…
Demonstrate excellence in their studio practice and/or art-making
Have a minimum of one year working in community based initiatives or programming with groups of youth and/or adults
Have a passion for working with and supporting under-resourced and/or marginalized groups
Show enthusiasm for working individually and collaboratively to serve the community
Are based in the San Francisco Bay Area
COMMITMENT
Awarded fellow will be asked to commit to an average of 16 volunteer hours per month to the organization from July 1, 2022 to June 30, 2023. This includes:
Time making artwork in the studio
Developing and implementing a year-long project
Meeting periodically with a mentor (co-selected by the fellow and staff to align with project needs/ interests)
Monthly All Artist Meetings (one Wednesday evening per month: July 2022-June 2023)
Attending other events as scheduled (includes Art Auction in October 2022 & a Spring fundraising event in April 2023)
SUBMISSION INFORMATION
If possible, please submit all documents as PDFs (images can be JPGs) and email to studios@rootdivision.org with heading: BABASF App – Your Last Name.
Application Materials
Please submit the following materials for review:
Application Form: Completed as Digital Application Form
Cover Letter (PDF: 1 page max): Please introduce yourself, tell us why you are interested in the Root Division community, and how this fellowship would impact you as an artist and facilitator of community work. Please add two references (contact name, email, phone) at the bottom of the letter.
Images of your current artwork (up to 12) and corresponding image info (Title, Year, Media, Size); Ideally the image jpgs and info are compiled and attached into a single PDF at 10MB max.)
Artist Statement about your artwork (PDF: 1 page max)
Artist Resume and/or Professional resume. (PDF: 1-2 page max)
Project proposal (PDF: 1-2 page max) A strong proposal includes a brief overview of the participants, activities, a basic timeline, and the audience served. (See our suggested template here.)
Support materials/ samples (2 page PDF and/or links): Images and/or text from prior experience that supports capacity to complete the project. This could be student artwork/ lesson plans, course syllabi, a curated show, etc.
Application process includes submitting completed Fellowship Application Form and required materials. Finalists must be available between June 11–15, 2022 for interviewing with Root Division's Artist Selection Committee.
QUESTIONS AND CONTACT INFORMATION
We encourage fellowship applicants to learn more about Root Division by reviewing the info on our Studios Program page as well as checking out our current Studio Artists.
For any additional questions about the fellowship, please email studios@rootdivision.org or call 415.863.7668.
To visit our studios at 1131 Mission Street, please email visit@rootdivision.org to schedule a short tour with someone on our team.