Priority Deadline: Monday, July 31, 2023, 11:59 pm
Root Division seeks an emerging arts professional who is passionate about exhibitions programming, curatorial practice, and gallery management to fill its Exhibitions Fellowship position from September 2023 through April 2024. This fellowship will include both virtual and in-person responsibilities, in accordance with local and CDC guidance regarding COVID-19. This position will overlap with Root Division's 2023 fellow whose fellowship period is April – October 2023.
Please read instructions listed below thoroughly before completing the Digital Application Form.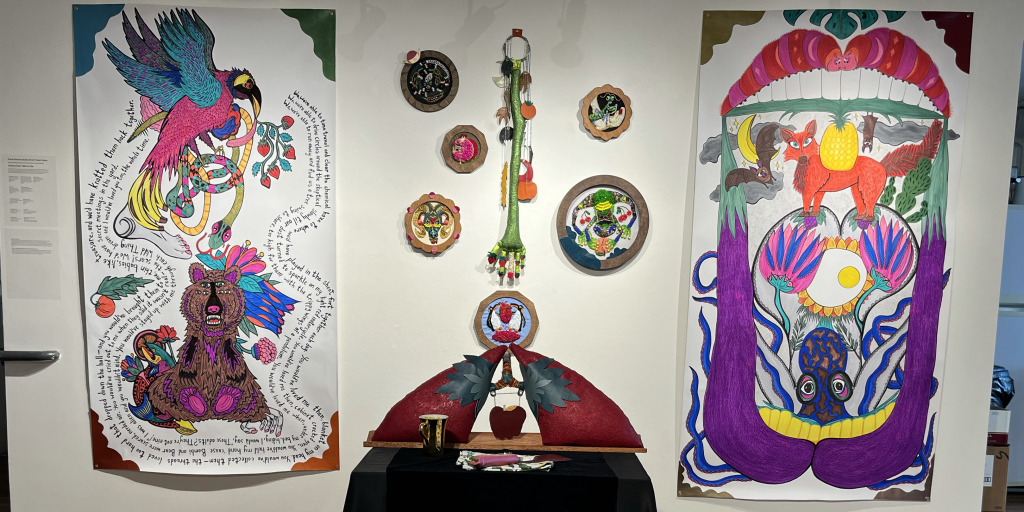 The Exhibitions Fellow will receive:
Project stipend of $3,200 (disbursed in monthly payments with project deliverables)
Access to participate on the Curatorial Committee for 8 months
Access to free classes and professional development workshops
Invaluable training and hands on experience in a dynamic visual arts non profit
ROLES & RESPONSIBILITIES:
Coordinate exhibitions for the Frank-Ratchye Studio Artist Project Space (FRPS) from September 2023 through April 2024: The Frank-Ratchye Studio Artist Project Space provides a space for Root Division Studio Artists to exhibit their art to the public. The FRPS is free and open to the public during gallery hours in conjunction with the current exhibition. The fellow will primarily conduct studio visits, select artworks, and schedule monthly exhibits in the FRPS, as well as serve a support role with related tasks such as installation, image management, and copy editing.
Participate on the Curatorial Committee: Comprised of twelve prominent Bay Area curators, artists and arts professionals, Root Division's Curatorial Committee reviews and selects the guest-curated exhibitions for the 2nd Saturday Exhibition Series. The fellow will join the Curatorial Committee for the length of the fellowship, gaining valuable experience by attending two proposal review meetings and participating in strategic planning sessions with leadership.
OTHER OPPORTUNITIES:
Contribute writing for Root Division's blog: In addition to coordinating artist exhibitions in the Frank-Ratchye Studio Artist Project Space, the fellow will have the opportunity to publish some art writing in the form of artist interviews, articles, or another form of their choice, to accompany the exhibitions for Root Division's blog.
Additional Support of Main Gallery Programs: The Exhibitions Fellow will also have the opportunity to work in support of the Art Programs Manager, guest curators, installation team, and exhibiting artists to produce and market Root Division's monthly exhibitions and public programs in the main gallery and/or online. Part of this includes the opportunity to support the quarterly jury review process, aid in exhibition design, catalog production, and technical support in the creation of 2nd Saturday exhibitions.
Qualifications & requirements
Bachelor's degree in fine arts, curatorial studies, art history or a related field, or equivalent experience in exhibition coordination (Current students are eligible to apply).
Strong administrative and organizational skills, writing ability and computer skills (Mac, G Suite, Dropbox)
Ability to work with various constituencies from a wide variety of backgrounds, including Studio Artists, exhibiting artists, curators, jurors, staff, and supporters of the organization.
Enthusiasm for working independently and as a team to serve the community in an inclusive, creative, and fast-paced environment
To be available a minimum of 5 hours per week for a minimum total commitment of 20 hours per month from September 2023 through April 2024. The specific schedule will be worked out with the Art Programs Manager and will include weekly hours onsite at Root Division, 2nd Saturday receptions, 1-2 weeknights per quarter for additional program activities or meetings, and additional hours if desired.
BENEFICIAL
Basic photo, video, graphic design, and/or web based skills (or a willingness to learn)
Marketing / public relations experience
Art handling or installation experience
HOW TO APPLY
Application process includes submitting completed Digital Application Form and uploading required documents as PDFs and images as JPGs. If you have trouble uploading documents to the form you can email them to: submissions@rootdivision.org cc'ing frances@rootdivision.org.
Please submit the following materials for review:
Completed Digital Application Form including the following:
Cover letter: Please introduce yourself and tell us: why you are interested in the Root Division community; how this fellowship would impact you as an arts professional; how your practice supporting exhibitions is related to the submitted images. Please add three references (contact name, email, phone) at the bottom of the letter.
Current resume/ CV (including name and contact info.)
Examples of past exhibition coordination, curatorial projects, or gallery work (5 images and/or video documentation) with a corresponding image list.
Optional: Writing sample (2 page maximum). This could be academic or professional arts writing.
Application process includes submitting completed Digital Application Form and required materials. Finalists should be available between August 10 – 16 for interviewing with Root Division's Staff. 
For any additional questions, please email Frances Fleetwood, Art Programs Manager at frances@rootdivision.org with any questions.
ABOUT ROOT DIVISION
Root Division is a visual arts non-profit located in San Francisco's Mid-Market/SoMA District. Root Division's mission is to empower artists, promote community service, inspire youth, and enrich the Bay Area through engagement in the visual arts.
Root Division's 2nd Saturday Exhibition Series showcases high caliber work with an emphasis on Bay Area emerging artists reflecting contemporary artistic ideas and current social concerns, in a variety of artistic disciplines, aesthetic sensibilities, and forms of cultural expression. Exhibiting over 350 artists and hosting over 6,000 visitors to the gallery yearly through receptions, gallery hours, artist panels, online exhibitions, and digital programming, this dynamic program continues to grow in its relevance and importance in the careers of Bay Area artists and curators.